We recently had the pleasure of speaking with Tomek Bagiński, executive producer for The Witcher. This self-taught artist left his architectural studies to pursue film, and has been awarded several awards for his short films during his career- even receiving an Oscar nomination for The Cathedral. Fans of the video games might recognize his directorial work in the cinematic trailers.
Your career has taken you on a journey through directing, writing, and producing. What lessons have you learned from your past work that you are applying to The Witcher?
I can't say, 'this is only my work' or 'this is only my vision,' because it is a matter of cooperation with the whole team. I am very, very lucky in my life because of the people I was working with earlier, and on The Witcher, were extraordinary. I think that's the biggest lesson.

Of course on a technical level, to have experiences as a director, VFX artist, animator, or any other experiences I've had are useful as a producer on the show. It's useful because it gives me a language to speak to the crew and understand the work.
Fans of the books have an idea of what the characters, lands, and cultures look like. How do you solve working within a budget vs. fan expectations?
Geralt's armor looks absolutely amazing and is kind of iconic, but at the same time you realize that he also looks great when he has a little less equipment.

Sometimes when you go to the bar, you don't have to have to have the full armor on you, right? It's not normal. It looks weird to be like in the full armor all the time, in every situation, or in every moment of the story.

So we started to experiment with his look, with his wardrobe, and with the amount of the things he's wearing. It was a great example of this type of discovery, and evolution of the character, and I really hope that you will see in the show. You will love not only one look, because he has many looks. I think there will be some surprises, but I think it will be a lot of pleasant surprises.
The Witcher was renewed for a second season, even before the release of the first season, which is a testament to such hard work! Will we see more Slavic performers and filming locations in season two?
Yes! It is rare, but I'm glad that the decision making chain already saw quite a lot of material. I think they understand what they have with us, and how interesting, big, and good the show will be. Of course, it also means a very simple thing: it means that fans of the show will get the second season earlier.

We are discussing the locations right now so we cannot confirm anything, but we are traveling all around Europe. Especially Central and Eastern Europe looking for locations, and looking for nice folks. Our design crew is traveling even now. I cannot promise any single location because nothing is really decided yet, but we are traveling all around Europe.
Are there any lessons you learned from the filming first season that will benefit the second season?
Oh yeah! I learned to always have very, very good shoes and an umbrella. Believe me, the most important lesson is to bring an umbrella to the set. I know it sounds funny, but if you are at night, it's raining, and freezing cold- an umbrella is one of the best things you can have.
I think I remember a picture of you working on your laptop inside of a cave, and it did not look warm at all.
No, no, no. I learned to write from my laptop, but not feeling my fingers!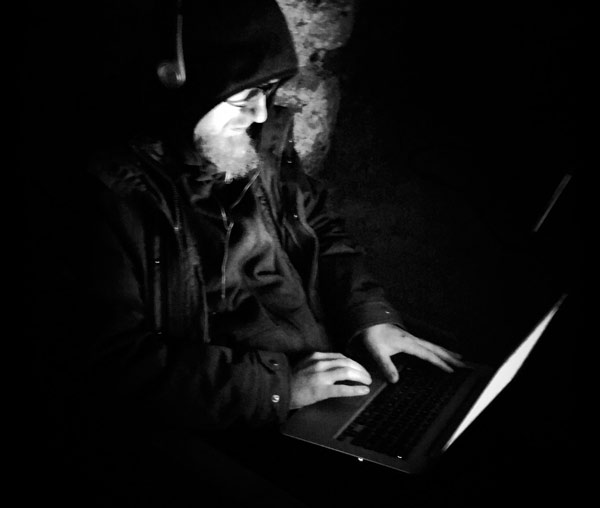 Source: Tomek Bagiński
It was a great experience, but at the same time if something is too easy to achieve, then there is no value in it. To make it work, it has to be difficult. Some things are very hard to get.

This show gave us a lot of lot of days where it was difficult to do, but at the same time it was looking great on screen. It is very often like that. Horrible weather usually looks great on screen, and you are suffering but at the same time, you are happy.

When you return, and you're just sitting in the warm editing room, you're just glad that you used the material on that particular day. Suddenly this material is great. So, it's a pleasure and pain at the same time.
What are the differences between Polish and the United States filming industries?
That's a tricky question, because on the level which interests me the most, which is the story. [Science Fiction, Fantasy, and Thrillers] was my main point of interest for my whole life.

When I realized that it's really something I wanted to do in my future, I really focused on the genre. I had to start traveling to LA and expand a little, because Poland is mostly character drama. It's very good cinema with talented people, but at the same time it's the type of cinema which is not my main point of interest.

Of course, I came to full circle in a weird way, because The Witcher is a family drama!
What are the challenges when working together with multiple filming industries, from various countries, on the same project?
There is a lot of experienced people who understand the business very well, and we have absolutely amazing, amazing talented people in the crew who helped us through the process.

Of course, Lauren [Hissrich], who's the main brain behind the whole show, is extremely experienced. She has many, many years of work on one of the biggest shows on earth. Her experience was crucial to the success of the first season, and it will stay crucial for the success of the whole show.

So, again, it's a group effort. It's difficult and complicated. There's a lot of people involved, but those people are really tough. I can't really say how glad I am for the crew members we had. Some of them really left their blood, tears, and talent for us and it will be visible on screen, I guarantee you.
Are you willing to share a funny story from behind the scenes?
Remember that scene in the trailer with the trebuchet and Fringilla? We broke the trebuchet.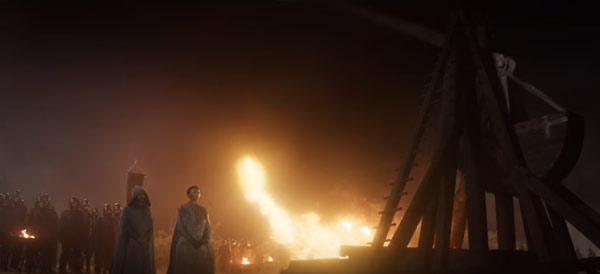 How many times?
Two times we damaged it! So we had to repair it and reshoot. We had to spend more time than we expected, and of course it made us rush through other things. Stories like that are almost every day. One of the funny things about the show is that you don't really remember much of it because it's so intense.
In your role, you're herding cats. What was the most challenging part of the production?
I've never had this question! A production job is kind of challenging every day, but I think the early days were the most challenging. We were trying to make it work, and there is a lot of invisible work I put into this. There's a lot of other input involved, so there are dozens of meetings just to make it work.

On set its actually not that difficult. I mean you have to be there, you have to make sure everything is going according to Lauren's vision, but we were working with such a great group of people. We had such a great crew that a lot of those stress and difficulties are not actually that crazy.

I think it's more the physical side of it which is really demanding, especially when you shoot at night every day. It's freezing cold. It takes a toll on you on a physical level, but once the team is in place, it's not that crazy. It's actually just going one day at a time, on one certain thing at a time, and you just keep going forward.
It was an honor to be able to speak with Mr. Bagiński on the first season and we look forward to more success in season two! What do you think? Let us know in the comments below or in our forums!