8/9/2018 8:27 pm

Casting your main character is one of if not the most important part of making a new show. When you have a single lead, and you cast it right, you can weather more events as the show goes on than a poorly cast lead or an ensemble cast. For example, co-leads and or supporting actors might leave to pursue their own lead opportunities but if you have a powerful lead, you can carry on with the show with changing roles. Because of that, this part of the casting process is essential! TheWitcher.tv is tracking which actors are auditioning and have expressed interest in the part of Geralt. Here's what we've gathered so far:
Henry Cavill: In an interview with IGN, Henry mentioned that he would be interested in playing Geralt for Netflix. While this was a comment made in passing, the internet did explode with fan art supporting the idea. Check it out below:
Sebatian Stan: Recently, Executive Producer Lauren S. Hissrich started following the actor on Instagram. This is unique as she follows very few people and Stan has a plethora of family history in Poland.
Zach McGowen: Known for his roles on Black Sails, The 100 and Shamless, has been making a great play for the role as well. He has been asking his friends and followers on social media to support his bid for the role!
We think anyone of these actors could be a great choice for the role! Who do you want to be Geralt in the pivitol Netflix series, The Witcher?
Let us know what you think in the comments below and in the forum!
8/6/2018 11:15 am

It's with great pleasure that TheWitcher.tv can independently and exclusively break the news that Alik Sakharov has officially joined the show as an Executive Producer. He will be joined by current executive producer and head writer Lauren S. Hissrich, and current team members Jaroslaw Sawko, Tomasz Baginski, Jason F. Brown, and Sean Daniel. Alik Sakharov is an Emmy award-winning cinematographer and producer, known for his work in shows such as "Game of Thrones," "Black Sails," and "Rome," and will certainly bring a desired flare to the show!
What do think about Sakharov working on the show? Let us know in the comments below or in our forum!
7/30/2018 12:20 pm

Tomasz Bagiński, illustrator, animator and director of Platige Images spoke with Nikola Bochyńska of Wirtualnemedia.pl about working on "The Witcher", working with Andrzej Sapkowski, and how it is created for Netflix. Along with being an executive producer, Bagiński will also direct selected episodes of the series.
(The original article is in Polish, so below we have done our best to translate pieces for English speaking fans)
"The Witcher," based on the world created by Andrzej Sapkowski, will be based on eight volumes of "Sagas about the Witcher". Mainly shot in Eastern Europe, focusing on a "Slavic" tone, Baginski had this to say:
Everyone in the band wants the series to be Eastern European, Slavic. That it would not be a typical American series. How will it actually be - time will show, it will verify creative decisions. Remember that it is teamwork, really good ideas appear from different sides, places, cultures. I am one of the team members. We all work on one project.
When the announcement of the upcoming Netflix series was announced, there was a mix of support and harsh blowback. To Baginski, this came as no surprise, but had this to say about Lauren S. Hissrich:
It's part of this profession, the position it's in. There is nothing to complain about. There is also a lot of support and it is not surprising, because Lauren is a great expert. I can only praise her approach to work.
The interview also reveals that Sapkowski is closely involved with the shows creation, and they work together to create an ending that will remain a secret to fans until the episode release:
We meet quite often, several times a year. During the meetings, Andrew gets information about what is going on with the show, has a chance to look at the emerging scenario. How we work together - I do not want to betray the end. This is our sweet secret with Mr. Andrzej. It participates in the process of really the extent to which he wants. It all depends on him.
While fans all over the world are closely watching the progress of "The Witcher," it seems that the team working on the show are determined to remain faithful to the original stories. As Baginski said, there will be a lot of changes from now until launch, especially when working with different countries and cultures.
What are your thoughts on the show's progress? Let us know what you think in the comments below, in the forum, or on our poll!
7/24/2018 10:17 pm

The writers are hard at work, and have finished compiling a story arc for season one. In tandem with the creation of episode storylines, casting is underway for the lead characters. TheWitcher.tv has uncovered test dialogue for Yennefer, and can share at least two scenes specifically written for casting purposes only. To read the raw dialogue and get a feel for the tone of the character, visit our spoilers page here.
As Executive Producer Lauren Hissrich has said in her tweets: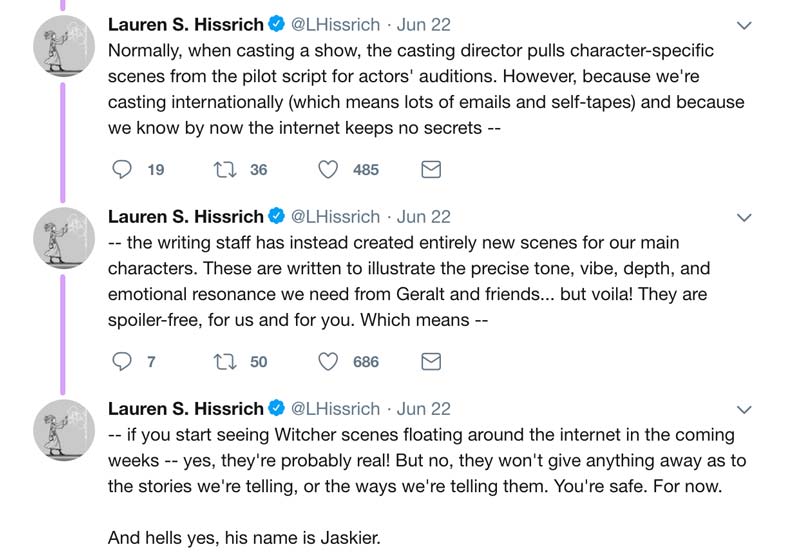 While fans may see audition tapes from all over the world, it seems that there is also a top list of actors that they have in mind as well. Who do you hope to see playing your favorite characters? Let us know what you think in the comments below, in the forum, or on our poll!
7/20/2018 12:31 pm

Witcher.tv is currently at SDCC, and we visited the Sideshow Collectibles booth #1929. Among the many gorgeous statues that were featured, we found both Geralt and Yennefer prototypes! While there, we had the opportunity to take some pictures, check them out in the gallery below:
Here is some info on each:
Geralt of Rivia (Skellige Undvik Armor)
License: Witcher 3: Wild Hunt
Manufacturer: Prime 1 Studio
Estimated Arrival: December 2019 – February 2020

Exclusive Version Cost: $749, limited to 500 and comes with an alternate hairstyle
Collector's Edition: $729, final limit TBD
A described on the Sideshow Collectibles site:
Geralt statue is standing approximately 23 inches tall with his alternate armor. This heavy armor is available through the Skellige Armor set DLC for The Witcher 3: Wild Hunt. It can be bought from the Armorer in Kaer Trolde citadel. The armor's design elements are strongly influenced from Undvik craftsmanship.
Yennefer of Vengerberg (Alternate Outfit Version)
Manufacturer: Prime 1 Studio
Not much is known about this statue, but we will continue you update you as soon as information is available.
Sideshow Collectibles requires a $75 non-refundable deposit. Don't get sticker shock though, they offer a variety of payment options! You can find these and more at sideshowtoy.com. We are definitely excited, and know that both are going to be worth the wait.
Let us know what you think in the comments below and in the forum! Make sure you stay up to date with all the Witcher news by following us on Facebook and Twitter.