5/7/2019 7:52 am
Back in January, Shaun Dooley confirmed that he was involved with the show. While we could only speculate as to who he would be, we now have an official answer: King Foltest. Today Dooley posted a hint to Instagram for Witcher fans, via a coffee cup with a crown on it:
TheWitcher.tv reached out to Netflix and an official Netflix spokesperson has confirmed that Dooley will be King Foltest. Keep an eye out for The Witcher IMDB page, where his role information will be updated.
What do you think of Dooley as King Foltest? Let us know in the comments below or in our forum!
5/3/2019 11:44 am

Netflix's The Witcher is adding another director to the season lineup! Marc Jobst is involved and rumored to be filming the final episode of the season, according to RedanianIntelligence.wordpress.com. Jobst has been involved with television shows such as Daredevil (Lauren Hissrich was a co-executive producer), Luke Cage, and The Walking Dead.
TheWitcher.tv reached out to Netflix and an official Netflix spokesperson was able to confirm that Marc Jobst is involved, but did not specify how extensive his role will be. Jobst did post a recent pic of his director's chair, and it looks…. rough.
Poland. My new director's chair. Shoot! FAST! pic.twitter.com/9BgjhDoZ1y

— Marc Jobst (@marcjobst1) April 8, 2019
What are your thought about Jobst joining the team? Let us know in the comments below or in our forum!
4/29/2019 8:11 pm

Undoubtedly, the Polish author Andrzej Sapkowski has created a world that has brought together millions of fans around the world. The world of 'The Witcher' spans several books and has inspired a Polish television series; an award-winning video game franchise; and is currently being made into a Netflix series.
The influence of Sapkowski has brought fans together on a global level, and TheWitcher.tv has joined our friends at Universo the Witcher to celebrate what we love about the story. We call this event: Sapkowski Reading Day! Between April 30th to May 1st, we encourage all of you to share your favorite Witcher quotes, stories, characters- whatever you enjoy about the work of Sapkowski.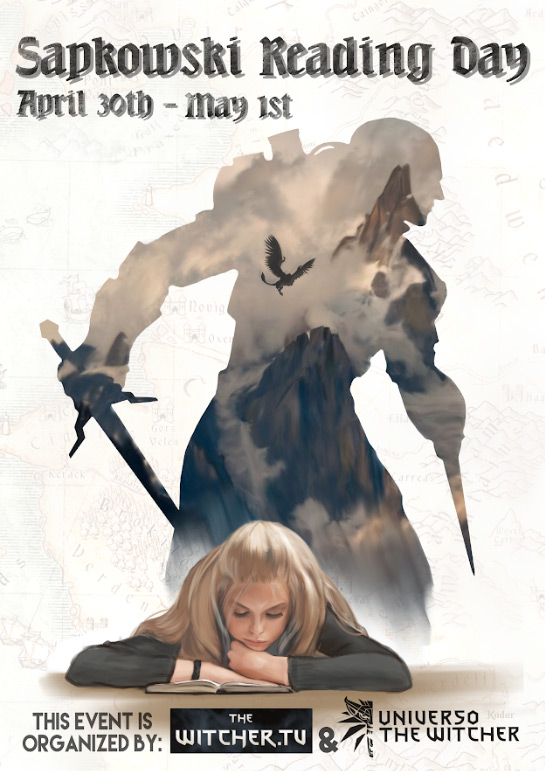 Why are these dates so special? Well, it is when the Belleteyn festival occurs! As Witcher Wikia explains:
...sometimes known as "May Day", "May Night" or "Blossoming", takes place on the night of May Eve, the night of April 30 into May 1. It is a fertility festival beginning at dusk on the 30th and continuing until the dawn of the 1st. Bonfires abound, and revelers are encouraged to jump the flames for luck and their own fertility.
But let's not forget- It is the day Yennefer was born, and by Geralt's calculations, Ciri was born close to Belleteyn Day.
As our friends at Universo the Witcher say-
"In short, from here we call on the different communities and other groups that have to do with Sapkowski, such as an editorial, to get in touch with each other and organize as best as possible this first Sapkowski Reading Day, which we will also promote social networks from hashtags like #SapkowskiReadingDay or, in the Spanish-speaking world, #LeerSapkowski. We close this manifesto with the hope that this Belleteyn is full of encounters and is as magical as it is the world of birth."
You can read their articles in both English and Spanish! What do you think of a Sapkowski Reading Day, and how would you celebrate Belleteyn Day? Let us know in the comments below or in our forums!
4/17/2019 10:15 am

Netflix's Witcher series is heating up and the hype train seems to be at full steam for the Henry-Cavill-lead show! During a quarterly-earnings call with Ted Sarandos, Chief Content Officer of Netflix, Ted talked about the new content that would be coming to the streaming service in Quarter Four (which is October-December). Among the shows listed was none-other-than, The Witcher! This all but confirms that any 2020 fears for the show can be squashed and fans can look forward to seeing the show THIS YEAR!
That's not all the news for Netflix's Witcher though. Having first seen the rumors on r/netflixwitcher, Netflix has confirmed that Jeremy Crawford, known for his roles on DC Universe's Titans and Man Seeking Woman, will play the part of Yarpen Zigrin on the show!
Additionally the part of Renfri is currently vacant as the show looks to fill the role. When asked about this development a Netflix spokesperson had this to say:

An evolving vision for the show meant we have made some amends to the series.
From what we've seen and heard about the show so far, it would seem Netflix's excitement for the project is very high! Many believe this could be a hit on the scales of Game of Thrones! Let us know what you think in the comments below and in the forum!
4/9/2019 11:10 am

Fans of the books have long awaited news of who would play the handsome and deadly mage Vilgefortz. TheWitcher.tv has reached out to Netflix and is able to confirm that we finally have him! Actor Mahesh Jadu has been cast as the infamous villain.
The Australian actor is most known for his role as Ahmad in Netflix's show "Marco Polo."
What do you think of Jadu as Vilgefortz? Let us know in the comments below or in our forum!