4/17/2019 10:15 am

Netflix's Witcher series is heating up and the hype train seems to be at full steam for the Henry-Cavill-lead show! During a quarterly-earnings call with Ted Sarandos, Chief Content Officer of Netflix, Ted talked about the new content that would be coming to the streaming service in Quarter Four (which is October-December). Among the shows listed was none-other-than, The Witcher! This all but confirms that any 2020 fears for the show can be squashed and fans can look forward to seeing the show THIS YEAR!
That's not all the news for Netflix's Witcher though. Having first seen the rumors on r/netflixwitcher, Netflix has confirmed that Jeremy Crawford, known for his roles on DC Universe's Titans and Man Seeking Woman, will play the part of Yarpen Zigrin on the show!
Additionally the part of Renfri is currently vacant as the show looks to fill the role. When asked about this development a Netflix spokesperson had this to say:

An evolving vision for the show meant we have made some amends to the series.
From what we've seen and heard about the show so far, it would seem Netflix's excitement for the project is very high! Many believe this could be a hit on the scales of Game of Thrones! Let us know what you think in the comments below and in the forum!
4/9/2019 11:10 am

Fans of the books have long awaited news of who would play the handsome and deadly mage Vilgefortz. TheWitcher.tv has reached out to Netflix and is able to confirm that we finally have him! Actor Mahesh Jadu has been cast as the infamous villain.
The Australian actor is most known for his role as Ahmad in Netflix's show "Marco Polo."
What do you think of Jadu as Vilgefortz? Let us know in the comments below or in our forum!
4/8/2019 9:05 pm

Rumor has it that production for Netflix's upcoming series "The Witcher," is adding another filming location to the list. While initially starting in Budapest, the crew recently wrapped up scenes on the Spain's beautiful Canary Islands, and is now thought to be setting up in Poland.
While it is unknown where and what exactly will be filmed in Poland, showrunner Lauren Hissrich recently posted an image from the airplane window. Should she be flying to Poland, it would be likely to oversee important scenes, also- the author of the book series, Andrzej Sapkowski, originates from Poland. It wouldn't be too hard to imagine him visiting filming locations and giving guidance along the way.
Lauren is not the only one working hard. Henry Cavill recently posted a pic from a gym in Budapest. While it's not exactly Kaer Morhen, it seems he is taking his training seriously!
What do you think of Poland as a filming location? Any guesses as to what storylines might be filmed there? Let us know in the comments below or in our forums!
3/29/2019 9:19 pm
The cast of "The Witcher," has another addition to the list. Steve Wall has confirmed through his Instagram that he will be playing the role of Boholt. Wall is best known for his role of Einar on "The Vikings."
Boholt in both the books and the game, is the leader of the Cinfrid Reavers. They are skilled mercenaries who excel in exterminating everything from a forktail to ferocious dragons.
What do you think of the Wall being cast? Let us know in the comments below or in our forums!
3/24/2019 11:06 pm

Game of Thrones has cemented itself in the entertainment industry as one of the most successful television series to have ever been created- it earned the rank of the most pirated show in 2017, and had many beloved actors have made their mark on Game of Thrones- including Jason Momoa and Emilia Clarke.
The one drawback to being involved with Game of Thrones? Don't even think of being in another fantasy show for quite some time. As reported by Digital Spy, in a panel at MCM Comic Con Birmingham, actor Ian Beattie discussed an audition that did not pan out:
"It's based on a video game, and I can't remember if Amazon or Netflix was doing it, but at the bottom of the casting call: No Game of Thrones actors."
"It isn't out yet. It's being made, I think, as we speak. So they obviously don't want any crossover whatsoever, which is fair enough."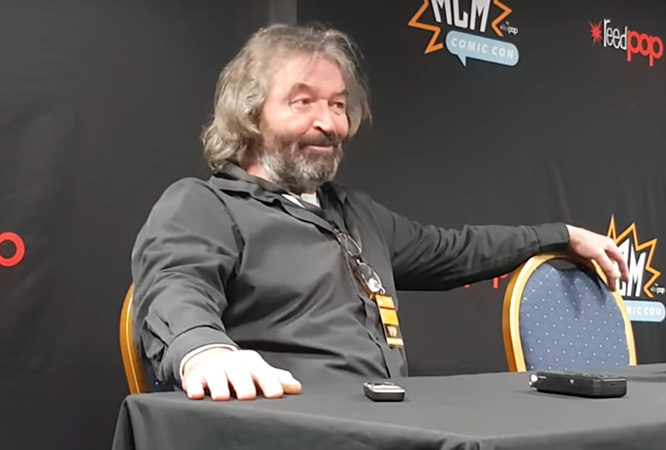 With the final season of "Game of Thrones" airing this year, and Netflix currently filming "The Witcher," it's hard not to see the correlation in what Beattie was inferring to. Netflix is going up against a heavy hitter, and the network has been sparing no expense in the creation of the episodes.
Was he speaking about "The Witcher?" The shoe certainly fits, and it is reasonable to assume that Sophie Holland Casting, who was in charge of the lineup, would want to disassociate themselves with GoT branding.
What are your thoughts? Would actors from GoT benefit the show or hinder it? Let us know your thoughts in the comments below or in our forums!