The elves in The Witcher lore have a long, rich history that began thousands of years before the start of the show. Elves are long lived, beautiful, and capable of harnessing the Chaos of the world. In this article, we go through the rise and decline of the elves in the Continent.
The elves are part of the Elder Races, which also include gnomes and dwarves. Unlike the latter, elves have only been around for a few thousand years, and only entered the Continent via The Conjunction of Spheres (a multi-universe event that we will discuss in another article).
Unfortunately, their culture and population degraded rapidly once humans entered the Continent- a few centuries before the start of the story. Humans learned to harness the energy of the world through the elves, and things went downhill from there.
Between constant conflicts with the human race, and their inability to reproduce as quickly as humans, their culture and place in the world is in shambles.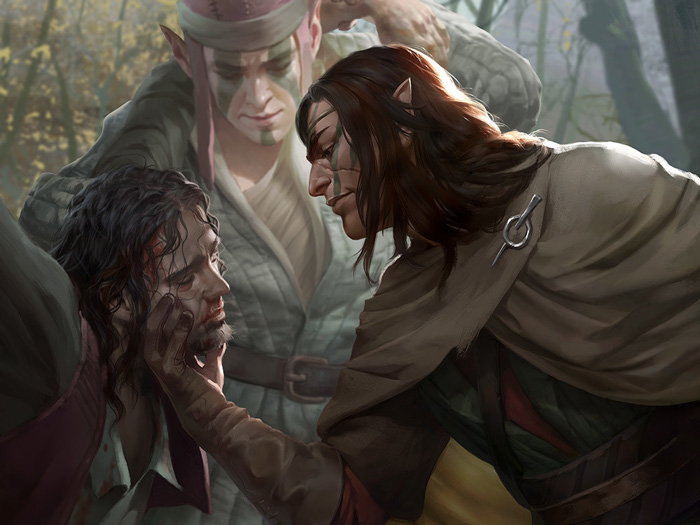 Credit: Isengrim by Grafit Studio
Even in our own history, we see the constant rise and decline of civilizations. Where one culture is destroyed, another is built upon the rubble of the last. Like in our own world, the elves had to quickly make a choice: assimilation, co-existence, or segregation.
"That's true, human. But you have changed this world. At first, you used force to change it. You treated it as you treat anything that falls into your hands. Now it looks as if the world has started to fit in with you. It's given way to you. It's given in." Andrzej Sapkowski, The Edge of the World
Neither were easy choices, and that is made apparent in the books. Some chose to integrate with humans, trying to maintain their language and traditions amid racial tensions. There are those that have fought hard to regain land that was once theirs - a place called Dol Blathanna, or "The Valley of the Flowers."
How much of Dol Blathanna or the history of the elves will be in this season, remains undetermined. You can also read our previous articles, one about witchers and another about magic and mages.
That's it for this entry, but we'd love your feedback! Did this help? What do you want to learn more of? Let us know in the comments below or in our forums!