2020 has been a crazy time so far, but there are some silver linings during quarantine. First, there was #TheGreatWitcherBakeoff, but now member from The Amazing Devil Discord Group have started a sweet campaign called the #GreatWitcherZoo.
in the last 24hr, members of the @taddiscord came together to 'toss a coin' to a worthy cause..."adopting" animals in need of our love & support and dedicating them to the members of @amazingdevilmus & @witchernetflix cast & crew. below are the links for the #greatwitcherzoo.

— ⭕️ Em (@dresdendoll) May 3, 2020
The Amazing Devil is an alt-folk band comprised of Madeleine Hyland and Joey Batey, who plays Jaskier on The Witcher. In the last 24 hours, members of the discord group have "adopted" animals on behalf of the cast and crew, and it's as wholesome as you might think:
The @TADdiscord is on an animal adoption spree, and the latest is Maddie Red, a joey, for @joeybateyuk. (I think she's really a joint adoption because how can Maddie Red's name not remind you of @MadeleineHyland as Scarlet Scarlet?!) pic.twitter.com/Kkm8C7lnlZ

— Rebecca (@rschaef9) May 2, 2020
So to welcome to wonderful @ThueRasmussen to The Witcher as Eskel we at the @TADdiscord have decided to grant his own Lil' Bleater to welcome him 🖤🖤🖤 pic.twitter.com/NLqr8cHX6u

— Robyn (@Returnofthe_Mc) May 2, 2020
@PaulBullionLive So the @TADdiscord decided, Lambert needs a wolf, so a wolf was adopted. pic.twitter.com/qXdCyzdPyz

— 🏳️‍🌈 Caro 🏳️‍🌈 #TeamElf 🧝🏼‍♂‍ (@datcarovieh) May 2, 2020
@Tom_Canton I hear the Scoia'tael are gathering a Squirrel army, so the @TADdiscord adopted you a Squirrel. pic.twitter.com/amiw5lMgwe

— 🏳️‍🌈 Caro 🏳️‍🌈 #TeamElf 🧝🏼‍♂‍ (@datcarovieh) May 2, 2020
If you're going to mention two animals though, you're getting two animals. In the name of Yarpen Zigrin, 6 Shetland Ponies known as "The Gangsters" have been adopted for you @_JeremyCrawford with love from the @TADdiscord ♥️ pic.twitter.com/M8BicDTpwg

— Leanne (@leanne_dorms) May 3, 2020
@LucasEnglander There is an animal adoption spree for #thewitcher cast taking place over at the @TADdiscord for @amazingdevilmus, so you get a panda. It may or may not be 2:22am in the UK right now and I'm not sorry. pic.twitter.com/LPLAg3rHEJ

— Sally can wait (@averillarts) May 3, 2020
@eamonfarren so some folks over at @TADdiscord have been lovingly adopting animals on behalf of the Witcher cast, and we figured you could use a new bird of prey pal to go with your fashionable Nilfgaardian helmet! pic.twitter.com/qimDN94yYL

— AFO of Roggeveen (@flirtygaybrit) May 3, 2020
So the @TADdiscord have gone a bit nuts adopting animals for the Witcher cast and here's yours @KimBodniaDK! An endangered Ethiopian wolf family you can be the proud father of! 🥰❤️ pic.twitter.com/kYHJx77LWE

— Grace The Poet Of Twifth (@PoetOfTwifth) May 3, 2020
@MimiNdiweni, the folks over at the @TADdiscord for @amazingdevilmus have adopted Taiga in your name. 10/10 would join Nilfgaard for this owl pic.twitter.com/ibVfsnzPbo

— Sally can wait (@averillarts) May 3, 2020
@anna_shaffer the @TADdiscord has decided to adopt animals for the cast of The Witcher! We're on a spree, meet your jaguar! #GreatWitcherZoo #WitcherAdoptions pic.twitter.com/NM1CPUjjtD

— Ozzybobs (@Ozzybobs1) May 3, 2020
@SophHollandCast the TAD Discord is on a spree, and we adopted a tiger in your name! https://t.co/VCI9mlK7gW
A playmate for your little lion cub, perhaps? pic.twitter.com/1Lk2TvECA6

— Faye (@fayespotato) May 3, 2020
@LHissrich so we at @TADdiscord wanted to do something for the amazing cast and crew of the Witcher. May we please present the lovely Alawa, your very own white wolf! 💜💜💜https://t.co/tFh64TXEJn pic.twitter.com/iHwqEa8mE0

— Robyn (@Returnofthe_Mc) May 3, 2020
Hey @CTchantcho, the @TADdiscord wanted to recognise your protection of rare and endangered scaly beings, so we adopted a pangolin on your behalf! pic.twitter.com/R9AYkpQDlp

— Abs | bisexual spaghetti (@bi_spaghetti) May 3, 2020
Actors Henry Cavill, Anya Chalotra, and Freya Allan also have such fitting animal adoptions:
the TAD discord is going off with animal adoptions for #theamazingdevil and #thewitcher cast.

so naturally i had to adopt henry the horse...for henry cavill.@witchernetflix @amazingdevilmus @taddiscord pic.twitter.com/Bd7Pnn70TU

— ⭕️ Em (@dresdendoll) May 3, 2020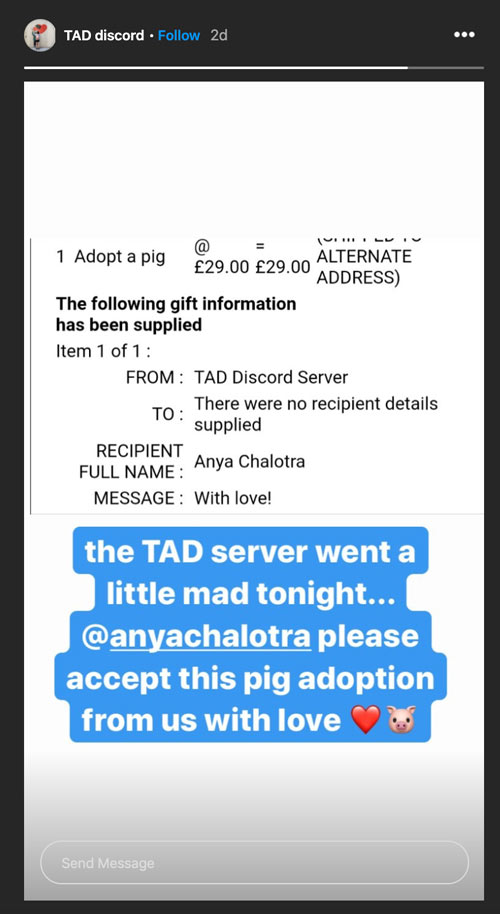 We love the kindness and thoughtfulness by the members of The Amazing Devil Discord Group. Not only have they brought joy to the cast and crew but are supporting beautiful animals in the process. What do you think? Let us know in the comments below or in our forum!