In 2019 just before the start of the Netflix series, The Gdańsk Mint, in cooperation with author Andrzej Sapowski, announced the premiere of a collectible coins inspired by each book in the series. In tandem with the second season, the company has revealed their second coins in the series inspired by The Sword of Destiny.
Just like the previous release, there will be two limited edition coins in limited supply: 2,000 pieces of the 2 oz coin and 200 pieces of the 1kg coin. Both have their own distinct scenes from the story and have been meticulously designed to appeal to fans of the Witcher in any genre.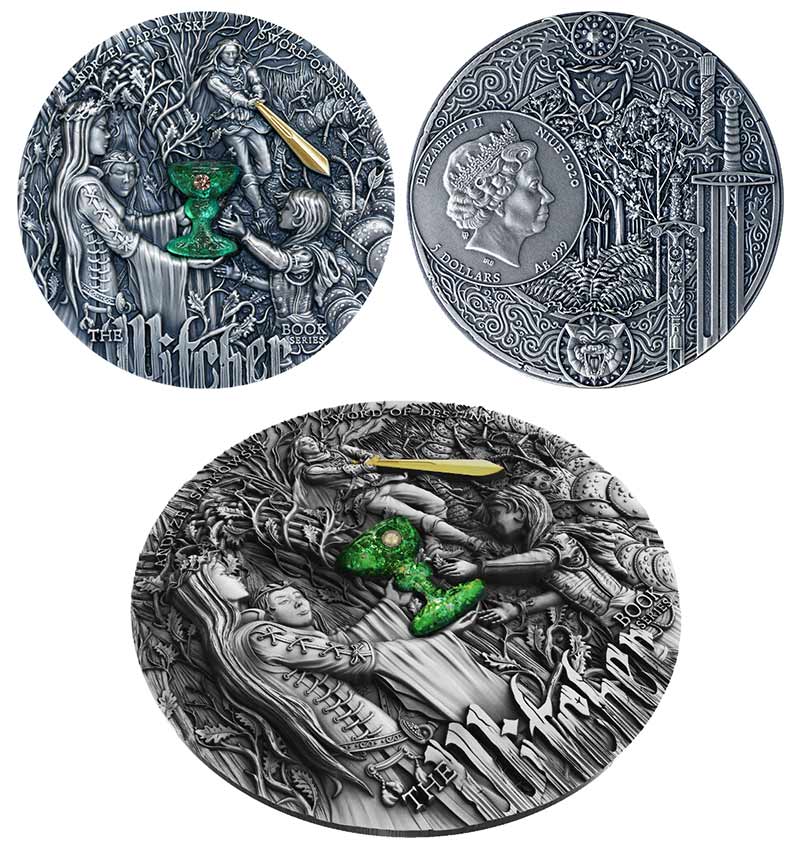 The 2oz coin is described as follows, "The Queen of Brokilon - Eithne, Princess of Cintra - Ciri and dryad Braenn. In the chalice there is the Water of Brokilon with special powers. Drinking water by Ciri is supposed to influence the fate of the girl and other characters - she can stay in Brokilon or follow her destiny. In the background we see Geralt killing a scolopendromorf - a monster living in the woods."
There is also beauty in the details: The Witcher's sword was plated with pure gold and the chalice is made of hand-polished, multilayered 3D glass, in which gold flakes were sunk. The obverse is decorated with ornaments and symbols related to the Brokilon Forest, Geralt's swords, and the symbol of the School of the Wolf.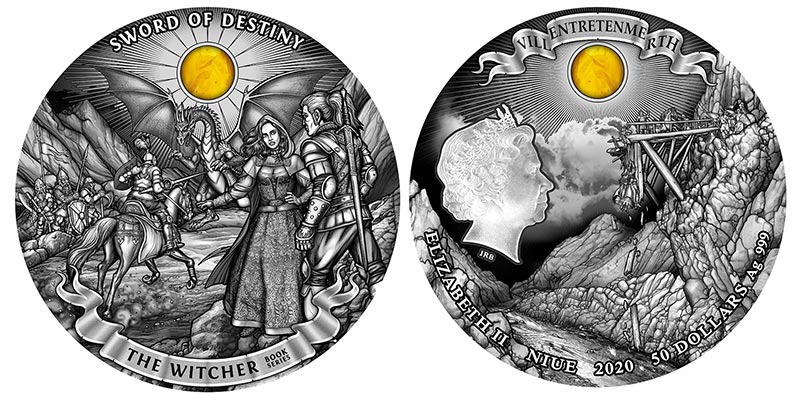 The second coin is a whopping 1kg and made of the purest silver. Because to the 3.6mm height, there is an incredible amount of detail to admire. The reverse shows a scene of a dragon fight from the story of the Sword of Destiny (the Golden Dragon named Borch Three Jack Daws in the show). Agates on both sides of the coin represent the sun, and the obverse included the Polish name of the dragon: Villentretenmerth.
The 2oz coin will sell for approximately $375 USD (1,399.00 PLN), and the 1kg for $3,720 USD (13999.00 PLN). Should you wish to toss a coin to your favorite Witcher fan, it would be wise to preorder soon as last year's coins sold quickly.
What do you think of the designs? Will you spend some coin to throw yourself a Witcher coin? Let us know in the comments below or in our forum!