12/16/2021 4:44 pm

We'd like to temporarily pause our excitement over the release of The Witcher Season 2 with an announcement for The Witcher game fans: Secretlab, in collaboration with CD PROJEKT RED, have created the TITAN Evo 2022 The Witcher Edition chair, inspired by the legendary monster slayer Geralt of Rivia.
The chair is carefully crafted with elements and fabric that any School of the Wolf follower would love. If you need an additional incentive to own this chair, each purchase includes a special treat for fans, every purchase comes with one Secretlab chair card and one random GWENT card collectible, featuring Geralt, Triss, Yennefer or Ciri.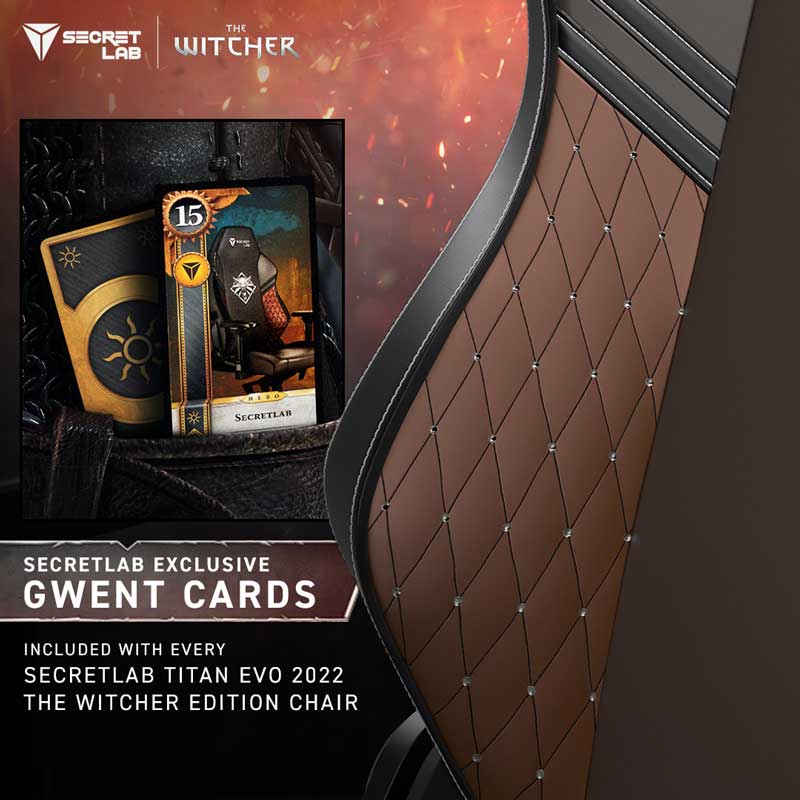 "We thoroughly enjoyed the creative process with Secretlab to explore various ideas for the world's first official The Witcher chair. It was important to us that every single design feature corresponded to an iconic part of Geralt's armor and weapons, and we know that fans will recognize and appreciate the different elements we've incorporated. It's truly a chair fit for the legendary witcher himself." - Przemysław Juszczyk, Lead Graphic Designer, CD PROJEKT RED
"Our designers wanted to bring the same magic and detail to the world's first official The Witcher seat, modeled after Geralt of Rivia himself. From the dual swords Geralt wields to the studded metal accents along the side wings, every aspect of the chair evokes a witcher's gear, reminiscent of the Continent's magic and monsters." - Vincent Sin, Head of Industrial Design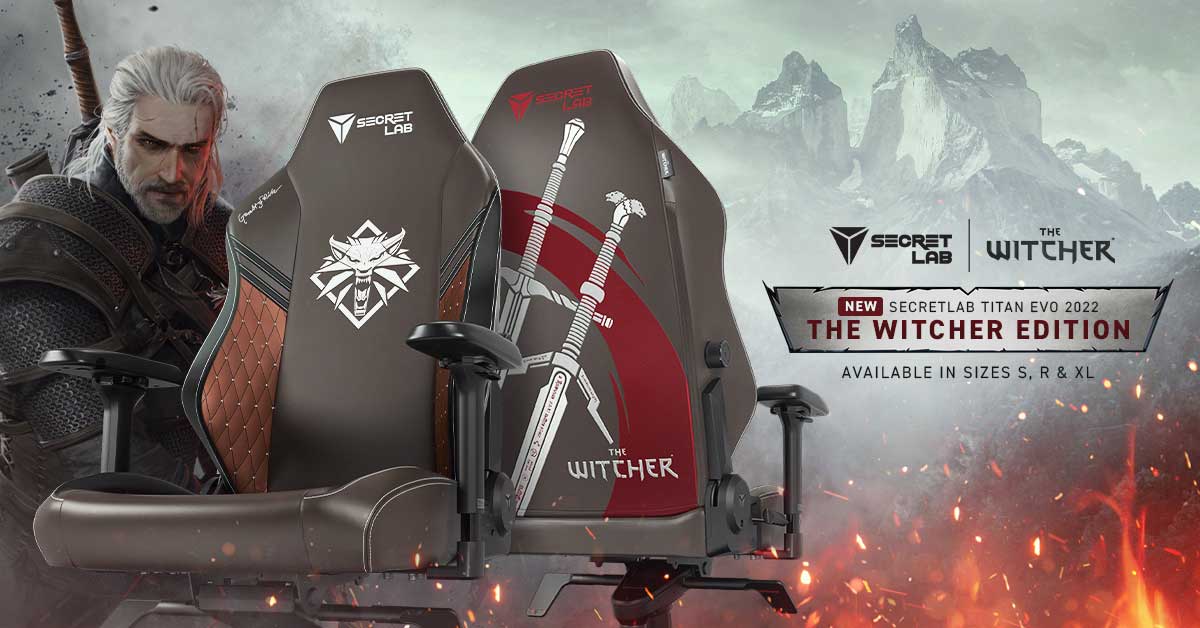 The chairs are available in Small, Regular, and XL, meaning that playing the game or binge watching the television series can do so in stylish comfort. Find out more details at Secretlab. What are your thoughts? Let us know in the comments below or in our forum!
12/16/2021 4:35 pm

At last, The Witcher Season 2 is out! Whether you are binging the episodes in one go (we won't judge) or savoring each like a fine wine, there are many exciting reasons to watch the newest eight episodes. Below are episode synopses for those curious to read the overall season story arc. If you are concerned about plot spoilers, reader beware. If you'd like to read our spoiler free review of season two, click here.
The second season synopsis is as follows, "Convinced Yennefer's life was lost at the Battle of Sodden, Geralt of Rivia brings Princess Cirilla to the safest place he knows, his childhood home of Kaer Morhen. While the Continent's kings, elves, humans and demons strive for supremacy outside its walls, he must protect the girl from something far more dangerous: the mysterious power she possesses inside."
A GRAIN OF TRUTH | EPISODE 201
WRITTEN BY DECLAN DE BARRA DIRECTED BY STEPHEN SURJIK
Assuming Yennefer was killed at the Battle of Sodden Hill, Geralt and Ciri embark on the long journey to Kaer Morhen, home of the Witchers. When they stop for the night with Nivellen, they discover a curse has been bestowed on Geralt's old comrade — and the truth isn't all he's hiding.
KAER MORHEN | EPISODE 202
WRITTEN BY BEAU DEMAYO DIRECTED BY STEPHEN SURJIK
Ciri settles into her new home with the Witchers at Kaer Morhen, but their safe haven is infiltrated by a new breed of monster. Meanwhile, Yennefer and Fringilla are captured by elves, but their lives are spared when Francesca, the new leader of the elves, discovers they share the same mysterious dream.
WHAT IS LOST | EPISODE 203
TELEPLAY BY LAUREN SCHMIDT HISSRICH AND CLARE HIGGINS STORY BY CLAIRE HIGGINS DIRECTED BY SARAH O'GORMAN
Suspicious that this new breed of monster has a connection to Ciri, Geralt takes the girl into the woods to track and kill the beast, but discovers another far more aggressive creature to overcome. Yennefer returns to Aretuza where she is accused of treachery and forced to prove her allegiance to the North.
REDANIAN INTELLIGENCE | EPISODE 204
WRITTEN BY SNEHA KOORSE DIRECTED BY SARAH O'GORMAN
Triss Merigold arrives at Kaer Morhen and uncovers a link between the new monsters arriving on the Continent and monoliths. Vesemir discovers Ciri could hold the key to the Witchers' fates, and Yennefer reunites with Jaskier, who agrees to assist on her mission but becomes ensnared in his own misfortune.
TURN YOUR BACK | EPISODE 205
WRITTEN BY HAILY HALL DIRECTED BY ED BAZALGETTE
Geralt teams with Istredd on a journey to the fallen monolith on the outskirts of Cintra, Yennefer forges a desperate deal with a familiar demon, and Triss discovers the true identity of Geralt's child surprise.
DEAR FRIEND | EPISODE 206
WRITTEN BY MATTHEW D'AMBROSIO DIRECTED BY LOUISE HOOPER
Geralt resolves to take Ciri to the sanctuary of the Temple of Melitele but their visit is cut short when a bounty hunter arrives to take the princess hostage. Yennefer and Geralt's paths cross and the sorceress escapes with Ciri under her wing.
VOLETH MEIR | EPISODE 207
WRITTEN BY MIKE OSTROWSKI DIRECTED BY LOUISE HOOPER
Francesca sets out on a deadly quest for revenge while Fringilla spills blood to retain her power. When Yennefer has a change of heart, Geralt trades information for her betrayal. But it may be too late.
The Witcher Season 2 is out now. What do you think of the story arc? Let us know in the comments below or in our forums!
12/16/2021 12:51 pm

With less than 24 hours till The Witcher Season 2, the buzz of excitement has turned into electric anticipation. This season has been in development through a number of pandemic related changes and postponements, but we are finally here!
Netflix has released another set of images from this season, revealing some familiar faces like Dara and Yarpen. What their roles are will soon be revealed, but for the next several hours, please enjoy our image gallery:
You can also see our other two rounds of production stills here. What are your thoughts? Let us know in the comments below or in our forum.
12/16/2021 9:20 am
We are merely a day away from The Witcher's triumphant return to Netflix for their second season! Remember, this season was filmed during the height of the pandemic and even had to shut down for a while due to covid, so this is a very special kind of treat. That said, have you ever wanted to smell like Geralt's bathwater? What about a Kikimora corpse? Old Spice is launching a new line of deodorants based on The Witcher. They'll be releasing 6 different scents:
Yennefer's Underarm
Blaviken Before the Butchering
Smell of Surprise
Geralt's Bathwater
Roach
Kikimora Corpse
Each deodorant is going to have a unique scent to it, and some will smell better than others, but as Old Spice puts it "In the time of The Witcher, long long ago, there was no Old Spice Swagger so everybody had B.O."
Which scent are you going to get?
12/13/2021 12:23 pm

We are just days away from the new season of The Witcher, and the excitement is palpable. After the 8 episodes air though, we begin the waiting game again, but we'll have something to tide us over coming on December 20th at 11am ET/8am PT . Netflix Geeked will be having an after show dedicated to the new season, hosted by Felicia Day. The hour-long special will take a dive into everything about the new season, tackling everything from spoiler-y stuff on the plot of the second season, to bloopers, interviews with the cast, and probably more!
You'll be able to watch the show on Netflix's Youtube and Facebook. Let us know in the comments below or in our forum!