10/10/2018 8:16 am

It's the news everyone has been wondering since Henry Cavill took the role of Geralt, who would play opposite him as Yennifer and Ciri. Well today we can put that speculation to rest! The Hollywood Reporter has learned that Freya Allan and Anya Chalotra will star as Ciri and Yennefer, respectively.
Anya Chalotra is an accomplished thespian actor, involved in dozens of productions such as "The Village," "Much Ado About Nothing," and "The Merchant of Venice." Along with theatre experience, she also acted in the television shows "The ABC Murders" and "Wanderlust." Anya will be playing the role of Yennefer, the sorceress that some agree is Geralt's true love. Powerful, complicated, and alluring- the role of the sorceress is a challenging one. She is a mother figure to Ciri, and her trademark scent is lilac and gooseberries.
In addition to Anya, Freya Allan will also be joining the show as Ciri. Freya is just 14 years old but already is known for her role on "Into the Badlands" as Young Minerva.
Of course, Yennifer and Ciri weren't the only casting news today. The Hollywood Reporter went on to round out almost all the major roles:
Rounding out the rest of the cast are Jodhi May (Game of Thrones, Genius) as Queen Calanthe; Björn Hlynur Haraldsson (Fortitude) as her husband, the knight Eist; Adam Levy (Knightfall, Snatch) as the druid Mousesack; MyAnna Buring as the head of the magical academy at Aretuza, Tissaia; Mimi Ndiweni and Therica Wilson-Read as novice sorcerers; and Millie Brady as the outcast Princess Renfri.
Millie Brady is a British actress, known for her role in the "Pride and Prejudice and Zombies" movie, and as Aethelflaed in TV series "The Last Kingdom." Along with her upcoming role in "The Witcher," she is will star in the TV adaptation of "The Clan of the Cave Bear."
Brady will take on the role of Renfri aka Shriek. Renfri is a princess-turned-bandit from Andrzej Sapkowski's "The Last Wish." In terms of storyline, she is a much darker version of the tale of Snow White. She is a formidable foe, who's lust for vengeance leads Geralt to choose the lesser of two evils.
Let us know what you think of this HUGE casting news in the comments below and in our forum!
10/8/2018 12:27 pm

Casting is still ongoing, and official announcements have been teased by showrunner Lauren Hissrich and the casting team. Although we don't know who will be playing the infamous Vilgefortz, audition tapes for the role (codename "Viktor") have been found.
The script can be read in our spoilers page.
Earlier in the year, Lauren gave brief character descriptions, including the ruthless and power-hungry mercenary: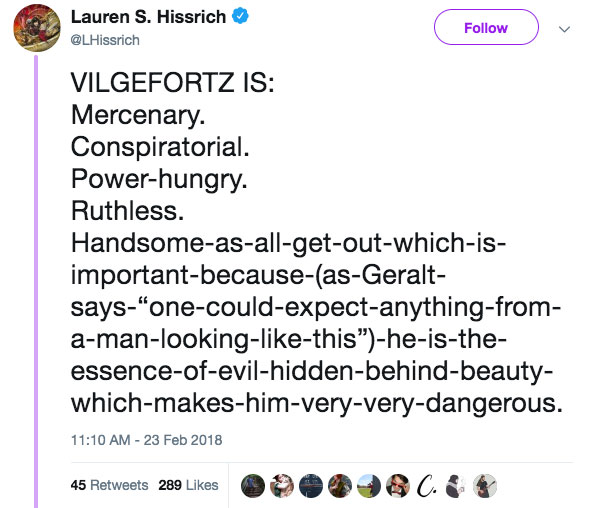 It will be interesting to see who they will choose to portray the handsome and ruthless bad guy, a person so handsome even Geralt took note. What are your thoughts? Let us know in the comments or in our forums section!
10/2/2018 9:23 pm

There are three new additions that are sure to excite fans about Netflix's upcoming fantasy series "The Witcher." As reported by Omega Underground, the show has added Julian Parry as visual effects supervisor, art director Chloe Kletsa, and costume designer Tim Aslam.
Julian Parry has a thirty year history of visual effects experience in film and television. Most might know his award winning work on History Channel's show "The Vikings," meaning Parry is quite capable of bringing battles and historically based stories to life.
Chloe Kletsa is known for her work in the movie "Snow White and the Huntsman" as an art department assistant, and assistant art director for the show "Nightflyers."
Tim Aslam has a long list of experience with periodic costume design, including "Black Sails," a pirate story based on the "Treasure Island" novel. His knowledge brings a needed attention to detail for armor and clothes. View his mood board for "Black Sails" on his site, and hopefully, he will add the mood boards for "The Witcher" in the future!
What do you think of the new additions? We are excited for these new additions to the crew, as the details are just as vital as the actors. Let us know your thoughts in the comments below or in our forum.
9/23/2018 8:23 pm

The start date for filming is creeping up, and so far only Henry Cavill has been officially announced for a role. With filming set to begin in October, this leaves little time for the cast and crew to prepare. Fans have been waiting on the edge of their seat for more updates, anticipating announcements to occur in the course of the next few weeks.
Here is what you might have missed in the meantime:
Lauren Hissrich keeps followers informed through her Instagram.
A week ago, casting assistant for "The Witcher," Faye Timby, posted an update on the process. In the picture is Hissrich sitting next to Executive Producer Alik Sakharov, who seem to be cross checking notes on their laptops during London casting.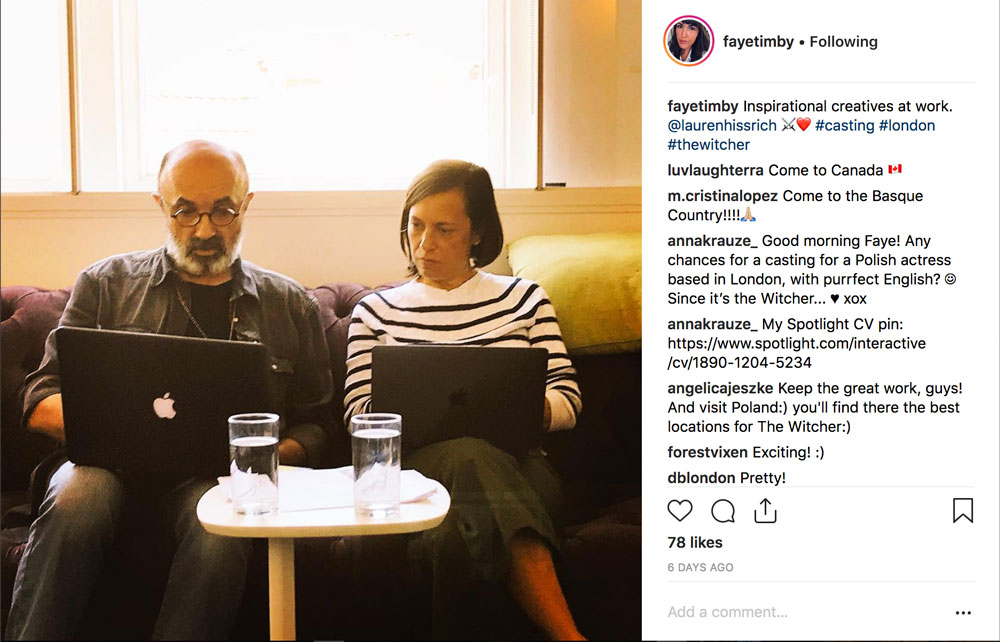 Not long after, Hissrich posted a picture of some cold medicine, and fans have guessed that she was in Hungary based on the packaging language. There is no rest for the weary, because she is currently back in London after a busy week.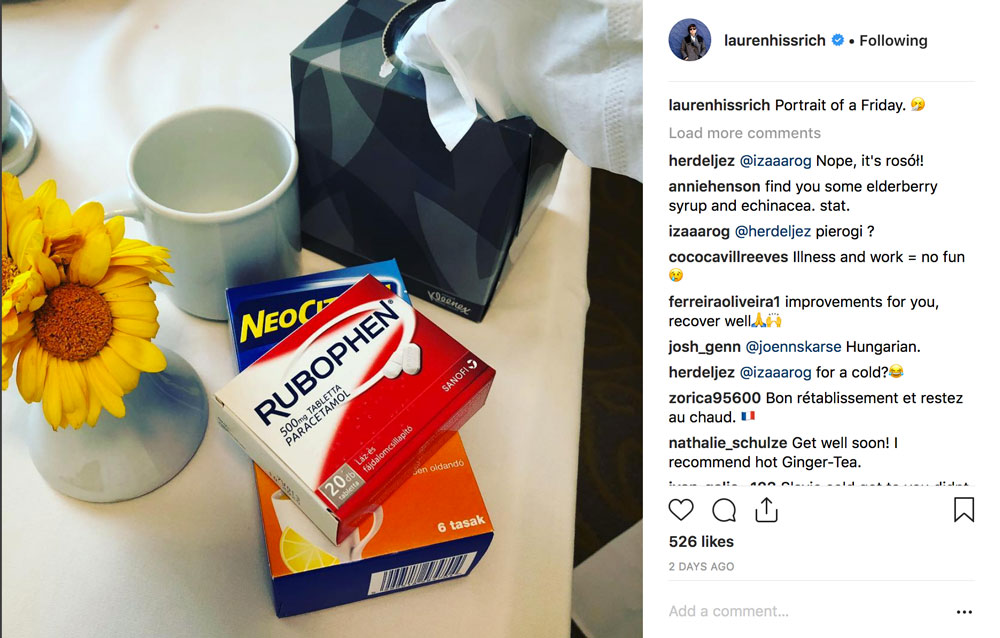 Henry Cavill is in Hungary, preparing for the role.
Before he left, he said goodbye to his own loyal steed, taking a ride on his Ducati. While he may trade in a mechanical Roch for the real thing, we are sure to see his trusty dog named Kal-El by his side during filming.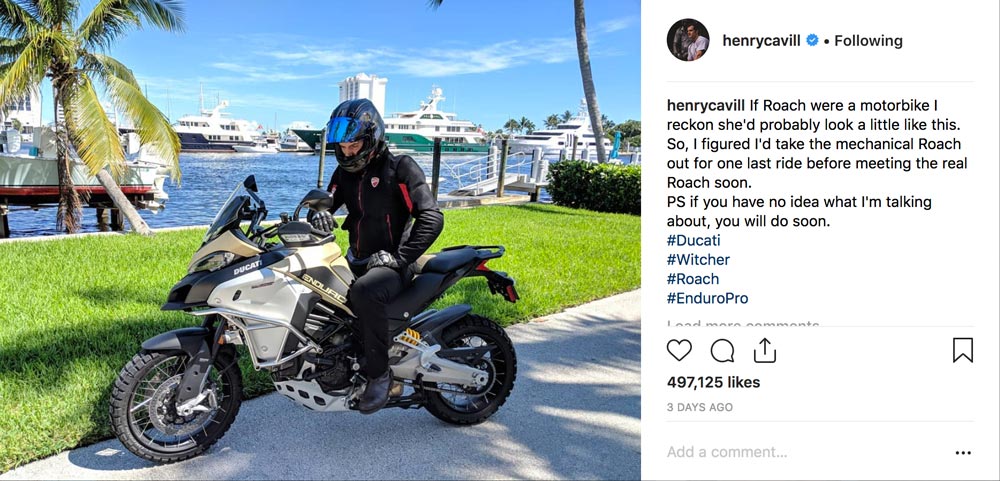 NX on Netflix promo video included "The Witcher" in coming soon lineup.
While the namedrop is lowkey, this is definitely the start of future exciting marketing materials, and reminds fans that 2019 is going to be worth the wait! Below is the screencap, but you can view the whole video here.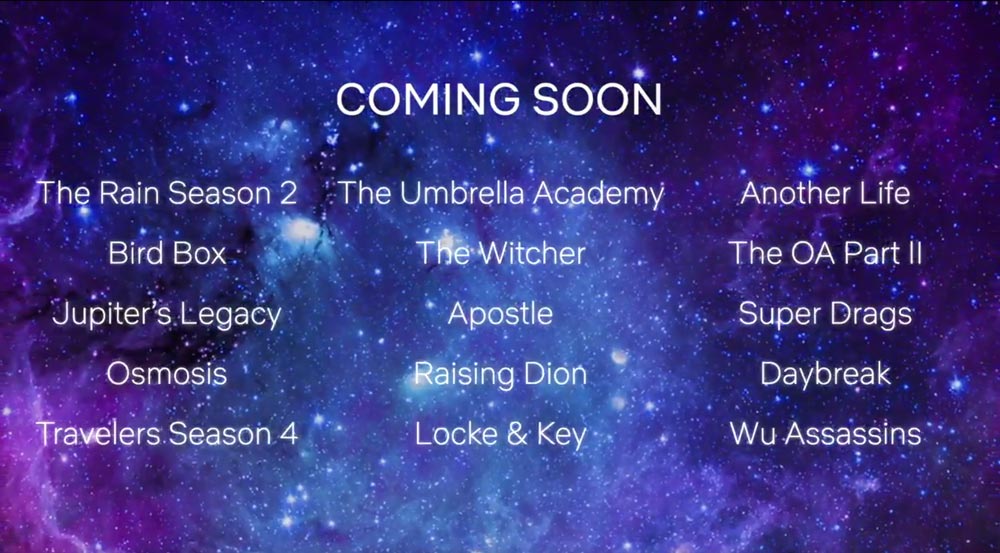 Things are happening fast, and more announcement are on the horizon. What news are you excited to hear? Let us know in the comments below or in our forum!
9/11/2018 8:45 pm

Last week the internet was all a flutter as we learned that the pivotal part of Ciri, adopted daughter of Geralt and Yennifer, was going to be played by a B.A.M.E. As a reminder, B.A.M.E. stands for Black Asian Minority Ethnic. Passionate fans raised both support and uproar by the news, to the point that showrunner Lauren Hissrich has taken a break from Twitter to focus on the show.
Today we can share that test dialogue for the part has been found! The test script, which holds the first meeting of Geralt and Ciri, describes the young character's ashen hair and stunning green eyes. Book and video game players will delight in the test dialogue as it clearly shows the young girl's plucky, strong willed personality. For more on the test dialogue, see our spoilers page.
In addition to the new information on Ciri, TheWitcher.tv has learned that actors of Polish decent are being considered for the part. According to the B.A.M.E. definition, people of Polish or Slavic decent are considered as B.A.M.E. It is used as an umbrella term to describe those that are not "White, or White British." Additionally, rumors are circulating that a few polish actors are reading for the part soon.
Let us know what you think of this new information and the test dialogue in the comments below and in our forum!