6/13/2020 7:17 pm
Fans were looking forward to the production of The Witcher season two in the beginning of the year, but the filming industry took an immediate halt due to the global Coronavirus pandemic. The good news is that things are starting to slowly return to "a new normal," with production aimed to return to early August.
In the meantime, showrunner Lauren Hissrich spoke to The Wrap about what to expect from season two, and how things will change due to health and safety procedures implemented by the British Filming industry. Months earlier, Arborfield Studios shut down due to actor Kristofer Hivju testing positive for the virus. Hissrich elaborates on that more:
Obviously, first we wanted to make sure he was OK. He was tested as he flew back into his home country of Norway, and he was completely asymptomatic at the time. He had no idea he had it. So, of course, we had to follow up with everyone who came into contact with him and let them know what they should do if they start feeling sick. But thank God, knock on wood, we had no other illnesses spiraling off that one.
Because the threat of viral spread—in a business where hundreds of people must work together to produce a show—the team is currently production planning and being flexible in such a complex situation:
Right now, it's a lot of production meetings, a lot of talking about how to keep people safe… A lot of it is just about flexibility, not just in the planning phases but when we get back on sets. It's about personal comfort and personal safety. So, the government may say it's OK to do X or Y, but an actor may say they don't feel comfortable doing that. And that's always going to be our first concern.

So, we're making all sorts of plans and accommodations and waiting for various governments to weigh in with their recommendations. And film commissions and Netflix. And yeah, it's going to impact story. It will have to. But one of the best things about being a writer on set is that I'm there to make those changes as we need them.

Really, in terms of writing, we just been honing a lot over the last eight weeks. Really digging back into scripts, making some big shifts, especially in the emotional journeys of our characters and making sure that everything we're writing feels really grounded and true.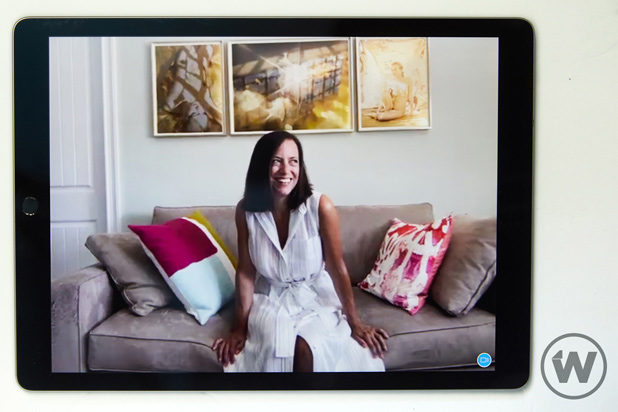 Credit: Matt Sayles for TheWrap
One thing that Hissrich is looking forward to in season two is exploring Geralt's origin story. We get a glimpse of his past in a fever-induced flashbacks in season one: a young child abandoned by his mother, and a brief cameo of Vesemir, who will be played Killing Eve actor Tim Bodnia. Hissrich explains, "For Geralt, it's his brothers, it's the brotherhood of the witchers. So, I'm really excited to get back in and meet Vesemir, his father figure, for the first time and all of these men that he was raised with since he was seven years old."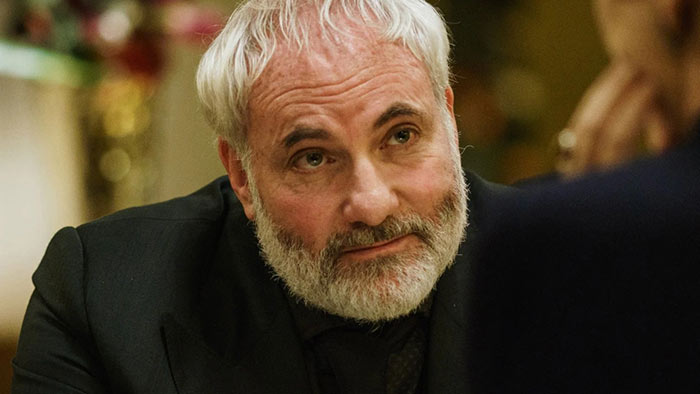 Actor Kim Bodnia
While the first season had some controversial problems with merging three timelines, Hissrich reassures viewers that will not be a problem moving forward—now that Geralt, Yennefer, and Ciri's timelines have been merged. Read or watch the full interview at The Wrap!
While there is some understandable excitement with the return to filming, Hissrich gives viewers clarity into the long process of making that a safe reality. Season two will be an interesting watch, given the quarantine and new safety standards, and we are looking forward to reuniting with the characters as soon as we (safely) can!
What are your thoughts? Let us know in the comments below, or in our forums!
6/10/2020 5:49 pm

The world is starting to open back up and governments along with production companies have begun working on a plan that will get our favorite shows slowly back into production and then on air! Unlike filming in the United States or even Canada for that matter, The Witcher primarily films in Europe and that brings into question how the European's are handling this new development. We reported earlier that the UK Government had created a plan to get the filming industry going again. Today, according to Production Weekly, a date has been set for The Witcher to return to production! August 3rd is what is slated but at this time no source from the show has corroborated this news. For us, at this point, anything about the show going back into production is good news! We can't wait!
Let us know what you thought in the comments below or in our forum! Don't forget to follow us on Twitter for breaking news!
6/3/2020 8:32 am

If you're like us then you've been sitting in quarantine watching and rewatching Netflix's The Witcher on almost repeat! But eventually you do get hungry for new content! Of course we don't want anything if it's at the expense of anyone's health. That said, a new report from The United Kingdom's government outlines how the British Filming Industry can return to work safely. It includes considerations for filmmakers at every level of budget and is intended to be scalable, allowing each production to apply the guidance to their specific project's needs. This means that The UK unit for The Witcher could start rolling those cameras again soon!
On a somewhat different note, DC Comicbook fans have made a pretty unified call for Henry Cavill to remain the film universe's Superman. On a personal note, we really love Henry in that role but love him as Geralt too. Current rumors are that Superman will likely be in the DC Film Universe's Hulk (from the Marvel universe). This comparison is meant that Hulk often appeared in other hero films but never had a movie about himself solely. At least in later movies. We support this idea as it would keep Henry's schedule more open to continue The Witcher as well!
Let us know what you thought in the comments below or in our forum!
5/17/2020 3:27 pm

It's been nearly five months since the release of The Witcher on Netflix, and though production has been postponed on season two, there are occasional interviews that give valuable insight into the creation of the show. Director Marc Jobst (Punisher, and Daredevil), sat with At the Flicks to discuss his past work and involvement with The Witcher.
It is no surprise that the method of writing for television has changed since the rise of streaming services and Jobst speaks to how that influenced The Witcher:
Interestingly enough, writers are beginning to write for that. When I first started working for Netflix, I remember having dinner with them and saying to us, "Don't think of this as episodic TV. Think of this as chapters within a book." That's fundamentally different to how you tell a story. In the traditional British model of the BBC or whatever, you have a cliffhanger at the end of every episode, and that's what the audience hooks into. That's what will lead them into coming back the following week.

If you are writing for a binge-watching audience, you think they're going to do at least two- possibly four episodes. You don't have to have that hook. It means that you can have one episode as a chapter. You can lead on to the next episode, which is a different chapter—maybe even unrelated. Then you can come back to the storyline much later on.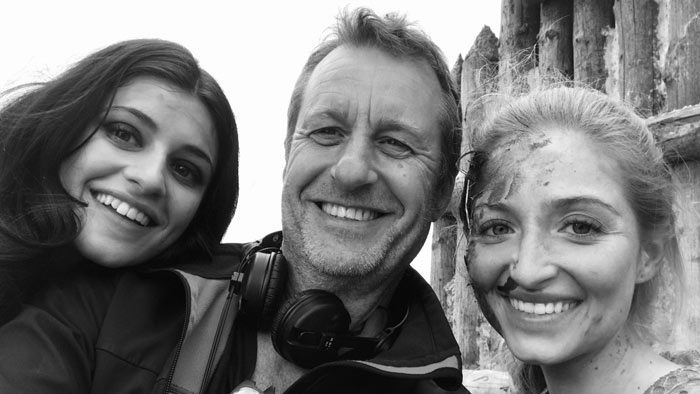 Credit: Marc Jobst
When asked if Jobst has ever played the game, the answer is no. He started to understand the world of the show as he went along and started to find things that interested him about Geralt:
I feel like I have come into it as an audience member who doesn't know the show and say, 'Okay, what am I interested in?' I'm interested in who this guy is. Who is he? What is he? What does he do? Why does he do what he did? Does? Why is he silent and sullen and why is he so grumpy all the time?

There's nothing wrong with being grumpy! It's just that when you're making a live action drama with your grumpy character as your lead, you need to start to understand him. You need to give the audience access to that character as being resident to their own grumpiness. What makes us grumpy? How do we deal with being grumpy? How does he deal with it?
We do get a glimpse into what Geralt's past and abandonment issues are via a delirious memory of his mother. Whether or not Visenna was actually there to save him, that is left for the viewer to decide.
He gets bitten by the ghouls and gets fevers. In this deliriousness, he flashes back to his childhood—the little boy who gets abandoned by his mom, taken to Kaer Morhen and becomes the Witcher that he is.

In his deliriousness—or IS he delirious? The big question mark in that scene by the tree where his mother comes to visit him: is it his mother or is he dreaming it? We left it deliberately ambiguous. There's been a lot of argument on fan pages about this, but I wanted to leave it ambiguous for Geralt to say, "Tell me, at least, that you knew what you were doing." Again, I think some of the skillfulness in the storytelling is it's not telling you that that's why he is grumpy. It's just giving you a backstory as to a child that has been abandoned. That could therefore give reason for somebody who feels the world is against him or not for him.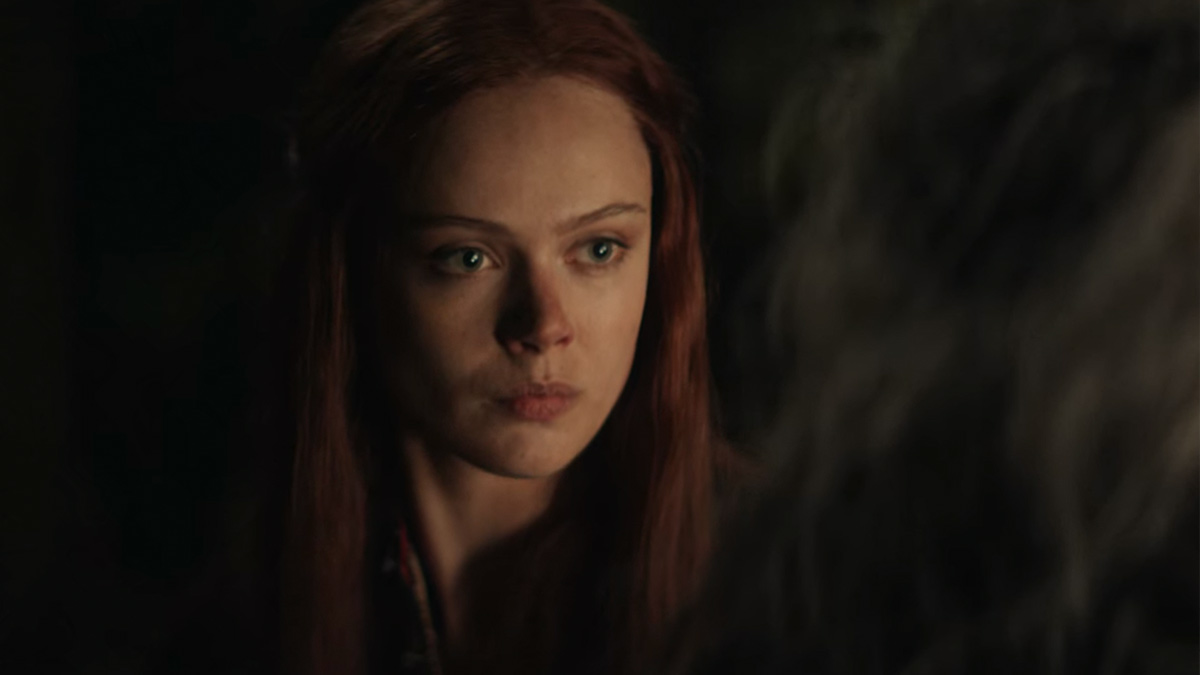 Credit: The Witcher (Visenna and Geralt)
Marc Jobst goes further into filmmaking and his career in this insightful interview. If you have the time, it is well worth the listen! Let us know what you thought in the comments below or in our forum!
5/4/2020 7:19 pm
2020 has been a crazy time so far, but there are some silver linings during quarantine. First, there was #TheGreatWitcherBakeoff, but now member from The Amazing Devil Discord Group have started a sweet campaign called the #GreatWitcherZoo.
in the last 24hr, members of the @taddiscord came together to 'toss a coin' to a worthy cause..."adopting" animals in need of our love & support and dedicating them to the members of @amazingdevilmus & @witchernetflix cast & crew. below are the links for the #greatwitcherzoo.

— ⭕️ Em (@dresdendoll) May 3, 2020
The Amazing Devil is an alt-folk band comprised of Madeleine Hyland and Joey Batey, who plays Jaskier on The Witcher. In the last 24 hours, members of the discord group have "adopted" animals on behalf of the cast and crew, and it's as wholesome as you might think:
The @TADdiscord is on an animal adoption spree, and the latest is Maddie Red, a joey, for @joeybateyuk. (I think she's really a joint adoption because how can Maddie Red's name not remind you of @MadeleineHyland as Scarlet Scarlet?!) pic.twitter.com/Kkm8C7lnlZ

— Rebecca (@rschaef9) May 2, 2020
So to welcome to wonderful @ThueRasmussen to The Witcher as Eskel we at the @TADdiscord have decided to grant his own Lil' Bleater to welcome him 🖤🖤🖤 pic.twitter.com/NLqr8cHX6u

— Robyn (@Returnofthe_Mc) May 2, 2020
@PaulBullionLive So the @TADdiscord decided, Lambert needs a wolf, so a wolf was adopted. pic.twitter.com/qXdCyzdPyz

— 🏳️‍🌈 Caro 🏳️‍🌈 #TeamElf 🧝🏼‍♂‍ (@datcarovieh) May 2, 2020
@Tom_Canton I hear the Scoia'tael are gathering a Squirrel army, so the @TADdiscord adopted you a Squirrel. pic.twitter.com/amiw5lMgwe

— 🏳️‍🌈 Caro 🏳️‍🌈 #TeamElf 🧝🏼‍♂‍ (@datcarovieh) May 2, 2020
If you're going to mention two animals though, you're getting two animals. In the name of Yarpen Zigrin, 6 Shetland Ponies known as "The Gangsters" have been adopted for you @_JeremyCrawford with love from the @TADdiscord ♥️ pic.twitter.com/M8BicDTpwg

— Leanne (@leanne_dorms) May 3, 2020
@LucasEnglander There is an animal adoption spree for #thewitcher cast taking place over at the @TADdiscord for @amazingdevilmus, so you get a panda. It may or may not be 2:22am in the UK right now and I'm not sorry. pic.twitter.com/LPLAg3rHEJ

— Sally can wait (@averillarts) May 3, 2020
@eamonfarren so some folks over at @TADdiscord have been lovingly adopting animals on behalf of the Witcher cast, and we figured you could use a new bird of prey pal to go with your fashionable Nilfgaardian helmet! pic.twitter.com/qimDN94yYL

— AFO of Roggeveen (@flirtygaybrit) May 3, 2020
So the @TADdiscord have gone a bit nuts adopting animals for the Witcher cast and here's yours @KimBodniaDK! An endangered Ethiopian wolf family you can be the proud father of! 🥰❤️ pic.twitter.com/kYHJx77LWE

— Grace The Poet Of Twifth (@PoetOfTwifth) May 3, 2020
@MimiNdiweni, the folks over at the @TADdiscord for @amazingdevilmus have adopted Taiga in your name. 10/10 would join Nilfgaard for this owl pic.twitter.com/ibVfsnzPbo

— Sally can wait (@averillarts) May 3, 2020
@anna_shaffer the @TADdiscord has decided to adopt animals for the cast of The Witcher! We're on a spree, meet your jaguar! #GreatWitcherZoo #WitcherAdoptions pic.twitter.com/NM1CPUjjtD

— Ozzybobs (@Ozzybobs1) May 3, 2020
@SophHollandCast the TAD Discord is on a spree, and we adopted a tiger in your name! https://t.co/VCI9mlK7gW
A playmate for your little lion cub, perhaps? pic.twitter.com/1Lk2TvECA6

— Faye (@fayespotato) May 3, 2020
@LHissrich so we at @TADdiscord wanted to do something for the amazing cast and crew of the Witcher. May we please present the lovely Alawa, your very own white wolf! 💜💜💜https://t.co/tFh64TXEJn pic.twitter.com/iHwqEa8mE0

— Robyn (@Returnofthe_Mc) May 3, 2020
Hey @CTchantcho, the @TADdiscord wanted to recognise your protection of rare and endangered scaly beings, so we adopted a pangolin on your behalf! pic.twitter.com/R9AYkpQDlp

— Abs | bisexual spaghetti (@bi_spaghetti) May 3, 2020
Actors Henry Cavill, Anya Chalotra, and Freya Allan also have such fitting animal adoptions:
the TAD discord is going off with animal adoptions for #theamazingdevil and #thewitcher cast.

so naturally i had to adopt henry the horse...for henry cavill.@witchernetflix @amazingdevilmus @taddiscord pic.twitter.com/Bd7Pnn70TU

— ⭕️ Em (@dresdendoll) May 3, 2020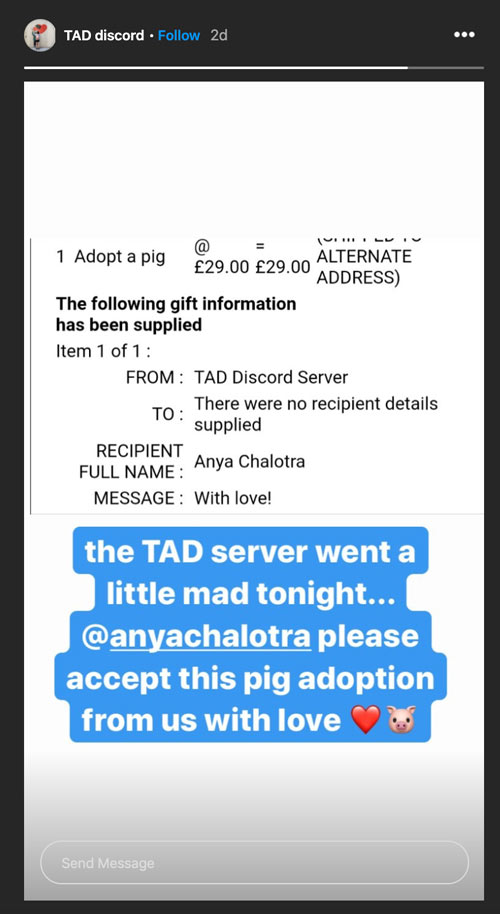 We love the kindness and thoughtfulness by the members of The Amazing Devil Discord Group. Not only have they brought joy to the cast and crew but are supporting beautiful animals in the process. What do you think? Let us know in the comments below or in our forum!