12/9/2019 12:20 pm

We are less than eleven days away from The Witcher—which releases on December 20th—and Netflix has just released three new featurettes. Actors Henry Cavill (Geralt), Anya Chalotra (Yennefer), and Freya Allen (Ciri) go in-depth about their characters. Each includes new quotes and scenes from the show and is beneficial to those who are new to the franchise.
In addition to the featurettes, composers Sonya Belousova and Giona Ostinelli have released two songs from The Witcher soundtrack. One entitled "Toss a Coin to Your Witcher," is our first introduction to actor Joey Batey's performance as Jaskier. The second is a musical composition called "Geralt of Rivia." Take a listen here:
The wait is almost over and we are excited for December 20th. What do you think of the featurette and the songs? Let us know in the comments below or in our forums!
12/7/2019 3:58 pm

Along with our press junket interview with showrunner Lauren Hissrich, we were honored to catch up with actors Anya Chalotra and Freya Allan. Our first meeting with the two was at the SDCC round table interviews: you can read the interviews with Anya here, and with Freya here.
I think both of you said you didn't read the books too much and that the script was where you were coming from, to reduce confusion. How has your understanding of your characters changed throughout season one?
Freya: I think at the start, I was daunted by the fact that I had some really huge scenes right at the beginning of filming. But actually, I was really thankful for those because it meant that I got closer to my character very, very quickly and it made the rest of filming a lot easier.

I feel like I did most of the discovering and connecting myself to the role right at the start because of those scenes. So I was kind of lucky to get to do that at the beginning, but obviously as you go along, you feel like you're getting to know your character even more.
Anya: Oh wow! I didn't know anything about The Witcher before I got my character breakdown for the audition and then obviously when I got the part, I immersed myself in the novels and the short stories. Then like I said, I find it really difficult to read ahead when we are focusing on Yennefer's backstory in the first stage of filming.

So really, I agree with my character and definitely feel⁠—because of season two being greenlit⁠—in a much more confident position to trust all the instincts that I had. I learned a hell of a lot! It's all new to me, this TV world. I've only had very little experience in that world, so I yeah, I'm looking forward to jumping right in!
Geralt's foil is Jaskier⁠—they bring out the best and the worst in each other. Would you say Ciri and Yennefer have foils, and if so, how do they bring out the personalities of your characters?
Freya: I think Dara for Ciri because she learned so much from him. He has a totally different perspective on life and a completely different origin and upbringing. And so, her mind is kind of opened because of him.

He provides that different perspective for her but at the same time, he also brings out a certain kind of anger and frustration in her. He believes that her grandmother is evil⁠—and she loves her grandmother⁠—so there's good and bad things that they bring out in one another.
Anya: I think the two most important relationships in Yennefer's life are Istredd, who she first meets outside her family. He really introduces magic to her and helps her understand what is happening. She had no idea she was capable of these things and it's also her first taste of that really deep connection—something she's never really experienced within her family.

Then you've got her goal to find a true connection and unconditional love. There's a mother figure in the series for Yennefer, who again, she has a deep connection to.
Despite calling her a "Piglet?"
Anya: Yeah! It's a tough love, but it's rooted in something. And I think she learns why it's tough as she has more of a relationship with her.
Geralt and Yennefer have what some would call a tumultuous relationship. Do you think their relationship is a love/hate for each other, or a self-loathing of themselves?
Anya: Such a brilliant question! That's something I'll have to think about for season two, don't I?

She's yet to figure out how and I think initially is just this animalistic, lustful relationship. Yennefer finds herself drawn to him, it's magnetic, and she doesn't want to need anyone—but she needs him.

So yeah, I think when she finds out that it's a wish that's bonded them together, that's something that she thought she was in control of, so she has to reflect on herself a lot. That might be because the complications come from—not necessarily self-loathing—but the insecurities they have within themselves.
Yeah, I like that phrase. Not self-loathing, that's too harsh.
We hear a lot about what it's like to work with Henry, but are there other actors that you enjoyed working with on set? We'd love to hear more about those.
Anya: Oh my gosh, thank you!
I mean, we all know about Henry, right?
Anya: Sophie (Holland Casting) did an amazing job casting this series because everyone is so lovely!
Freya: They were all intelligent, sweet people! So Bjorn (Hlynur Haraldsson), who plays Eist, was literally the funniest man. Adam Levy, he guided me through everything and was so sweet. And Jodhi May, I just watched her and it was just incredible! Yeah, I mean, all the actors I worked with were just incredible.
Anya: Yeah, and Joey (Batey) is one of my closest friends and he played Jaskier. He's an absolute dream to work with and to share the whole experience with.

Who else? MyAnna (Buring) was a mother figure not only in the series, but (to me as) Anya. She was an absolute dream to work with! She obviously has a lot of experience in this industry and gave me so many pearls of wisdom.

Julian Rhind-Tutt is an incredible actor and an incredible man. Royce Pierreson is an absolute dream to work with—so lovely and brilliant! I mean, I could go on.
It's nice to hear about the relationships other than with Geralt.
Anya: Yeah, absolutely! Especially in the series, we get the chance to have those relationships, because we're leading up to the three of them coming together.
Are there any lessons from filming season one that you'll carry over for season two?
Freya: Well, as actors, it's confidence. We just learned how it feels to be with a character for that many months and the process of going in and getting used to the routine. I suppose that's something that was quite new to us—to be on a project for so long and with a character for so long—so yeah, I guess we're just going to be able to take on season two with more gusto.
So what are your plans until season two starts?
Anya: Christmas with the fam!
Feya: Yeah, having a life! But, hopefully there will be some preparation to come with pre-production.
The first season of The Witcher will premiere on Dec. 20th and both actors seem excited to jump back into their roles for season two! What do you think? Let us know in the comments below or in our forum!
12/5/2019 8:50 pm

During The Witcher LA press junket on December 3rd, we had the opportunity to speak one-on-one with showrunner Lauren Hissrich. We first spoke with her at a round table interview at SDCC, and were honored to catch up on the growth of the show.
Your career is taking you on a pretty impressive journey so far. What lessons have you learned from your past work that you're applying to The Witcher?
I mean everything. I've been doing this for 19 years, or 20 years if you count the year that I did an unpaid internship on The West Wing.

I started by getting coffee, answering phones and getting people's lunches. Then I was invited into the writers' room and started getting to take notes and listen to the pitches of the really smart people around me.

Then I became a researcher. So then I was presented with, "Okay, how would I build a story?" They're coming to me for information and I just worked my way up to be a writer.

Once I started on a show called Private Practice, that's when I actually started going to set a lot more. I got that next level of experience with actors, directors, and with the crew and seeing everyone else be experts in their fields.

I wouldn't change a moment of it because those are all lessons now that I use in my job. From inspiring people to do their jobs well, not trying to control everything myself, and being a nice person because I've been the person that gets coffee. The person that gets me coffee is just as valuable to my life as a person that's giving me information or helping me craft a story.
I'm going to nerd out and say that you remind me of Captain Picard!
No one has ever said those words to me before, Kelsey, so I'll take it! I'm gonna tell my husband that and he's gonna be so excited someone made that connection!

I mean, you have to, right? I want to know everyone's name that works on the crew and be there every day. It's really important to me to show up when we have call time on set which is when everyone shows up to start and I say there's the end of the day because if I can't set that example then how do I expect other people to do that?
How do you solve balancing Polish influences in Mr. Sapkowski's books and accommodate for a larger global audience?
One of the very first things Andrzej told me about was his travels as a salesman. He traveled a lot up into Russia, Western Europe and all over. He, of course, was influenced by Poland because that's where he grew up and it influenced why he wanted to write these stories.

What I love is that he actually brought in this really cosmopolitan, big world based on his own travels. And that's what's in the book. So that's what I get to write about. It's part of why I hired the writers that I have.

A lot is made about diversity in writers' rooms and I think that's incredibly important. The problem for me is when diversity is just boiled down to mean skin color, because it's actually diversity of experience, birthplace, of family, talents, and skills.

You need the diversity of experiences to really flush out a story. Starting with Sapkowski's writing, seeing his diverse experiences, and then feeding that with the experiences of the very diverse writers' room. I just think it was a match made in heaven and it allows us to make the continent bigger and bigger.
I remember watching a video of writer Declan de Barra working with composer Sonya Belousova on music.
Yeah, you'll hear some of Declan in the series because he does a lot of the vocals for us, which was completely unexpected! He has a voice and he is so nonchalant about it. If you google him, he's got YouTube videos and some of my favorite music, actually.
That's amazing! That's a testament to the diversity in the writers' room.
That's what's so fun about a writers room. One of the very first things that you do sort of is the "cone of silence," which means that what is in here stays in here. We don't gossip. We don't talk behind each others' backs, because what you're really asking is for people to bring their own life and their own vulnerabilities to the screen.

I talked about my marriage all the time and my children. I need to know that it won't go beyond that, but if that's something that can spark a relationship between Geralt and Yennefer, or Yennefer's desires to have a child- that's something that I can speak to personally.
What stories or characters are you excited to bring to life next season?
What's so fun is when you write a season of television, you have it all planned out. You think you know what's going to happen, you know what you're going to love doing. It's just going to start feeling like you need to get this expositional story out so that you can get to the next thing. Then what's surprising is that you have to have a plan, but you also have to have flexibility to let things organically come to the surface and grow and develop.

There are characters that we met in season one that we hired an actor for one episode in one season. I'm not going to tell you who these characters are by the way, and we loved him so much. It's like, well, "How can we bring him back and make him a bigger part of season two?"

For that story, there's ten different things that we're adding. It's stuff that we discovered in the process- actors we love working with, characters that had relationships that were much more dynamic than we'd ever planned, locations that we want to go back to, any of those things.

I am so excited to get back into it. You know, we've actually written the season already, and so we'll start filming next year, and it's been great because it's been amidst the excitement of letting the world see season one. I'm so excited because I know what's percolating for season two, so I can't wait!
The first season of The Witcher will premiere on Dec. 20th, and according to Lauren, filming for season two is not far behind! What do you think? Let us know in the comments below or in our forum!
12/4/2019 9:47 pm

On Dec. 3rd, I had the honor of touring The Witcher experience during the LA press junket. Although I wished to start my tour with petting Roach, she understandably needed a ten minute break from listening to everyone's problems. It's not an easy job being Geralt's horse!
Instead, we were escorted to the Trial of Grasses. Once we proved our worth by downing a vial of potion (pickle juice), we were awarded with our very own Witcher medallion.
Next, we explored the main feature: a tour through the Continent. There were a total of four rooms, each brought to life by an actor who guides the conversation and reinforces the scene. While some images turned out better than others, we hope you enjoy our description and images of tour through the experience.
Lessons at Aretuza

As we entered the first room, we were immediately greeted by a stern sorceress who had little patience for our desire to dilly-dally. We were directed to a podium, each decorated with a simple flower and a stone. We were warned about the dangers of magic and how we came to be in her presence.

The sorceress' eyes fell upon me as she explained that I had shown magical powers after "setting my cousin's house on fire." An accusation I didn't deny, but agreed with wholeheartedly. Others were brought in for nobler deeds, such as saving someone from drowning, but our teacher did mutter that she paid too much for each of us.

She was probably right.

We immediately began repeating an incantation, holding our hands above our stones, hoping to tame the chaos she described. We tried our best, but none could lift the stone- save for our teacher.

After raising the rock in mid-air and reminding us to continue practicing, she sent us off to the next room.
A Massacre in Cintra

We were greeted by a warm hearth and lavish dining table, but with unfortunate decorations. Blood splattered across the walls and the feast looked quickly abandoned.

In the corner stood a woeful knight of Cintra, who I presume is a survivor of the massacre, eager to tell the tale of the mighty Queen Calanthe. Though she fell, he believes that her granddaughter, Princess Cirilla, is alive and safe somewhere.
The Baths

Stepping past the curtain of steam, we entered a romantic, candle-lit room. In the center was a luxurious (empty) bath. Photographers were standing by to take pictures and encouraged visitors to get in the tub or sit around as a group for a fun memento.
A Dark Forest Stroll

We entered a dark room filled with rocks and trees, illuminated by a single light to represent moonlight. We could barely see enough to appreciate how detailed it was.

As someone who watches too many horror films, I remained close to the light. Another reporter was not as fortunate. From the dark corner of the room, a mad man sprung from behind, giving him the biggest jolt and a good laugh from the rest of us.

I had to hand it to the mad man, the others did an excellent job, but he was so captivating as he ranted about the legendary Geralt, the Butcher of Blaviken.

As he retreated into the darkness, we quickly shuffled towards the exit before there were any further rantings.
Once we ended the tour, we were able to explore all that the night had to offer. Fans who were hungry and thirsty could grab some water and a snack before exploring.
While the musicians were setting up while we were there, we could already tell that they were going to give a great performance.
Fans could also dress up in a cloak, mask, and wield up to two swords for their own pictures in front of the backdrop used for the initial marketing images.
Jaskier wasn't present at the event, but there was a strapping bard who sang the story of, well, you! With the assistance of helpful staff and a form, the bard was able to make any fan feel like a legend!
For those who needed to place a wanted ad on the Witcher board, Netflix had you covered. Fill out a simple form with your problem and reward amount, and tack it to the wall.
Finally, we were able to experience what is arguably the most precious experience: meeting Roach.
She listened to my problems, but showed complete disinterest. I got to pet her velvety nose, but realized I had no snack. I was understandably a freeloader in her eyes. Roach may be skittish, but she has standards!
Once being able to meet Roach, our experience was complete. When we did leave, we heard the faint sounds of music filling the air.
For your pleasure, here are the images below:
What do you think? Did the fan experience sound fun? Let us know in the comments below or in our forum!
11/29/2019 9:03 pm

Looking for that perfect gift for the witcher in your life? Mint of Gdansk, with exclusive rights by Polish author Andrzej Sapkowski, are creating an exclusive series of silver coins dedicated to each of the books in The Witcher series. The plan is to release a total of eight issues, beginning with The Last Wish.
This 2-ounce coin on the reverse shows the fighting Geralt who, together with Yennefer, tries to save his companion Dandelion, possessed of the Genie's spell. The coin is decorated with an exceptionally high relief, which shows every detail of the project in every detail. The Witcher's sword is decorated with gold. Yennefer received a ball printed on a 3D printer.

The obverse shows the Witcher's symbols, such as the wolf and the sword, as well as the ornaments of Cintra Castle.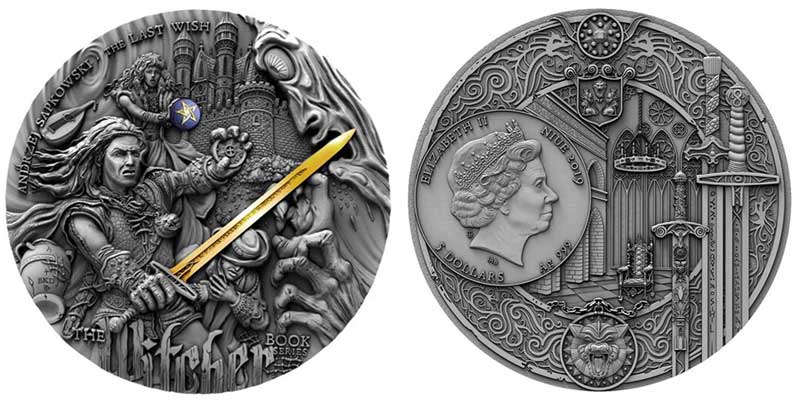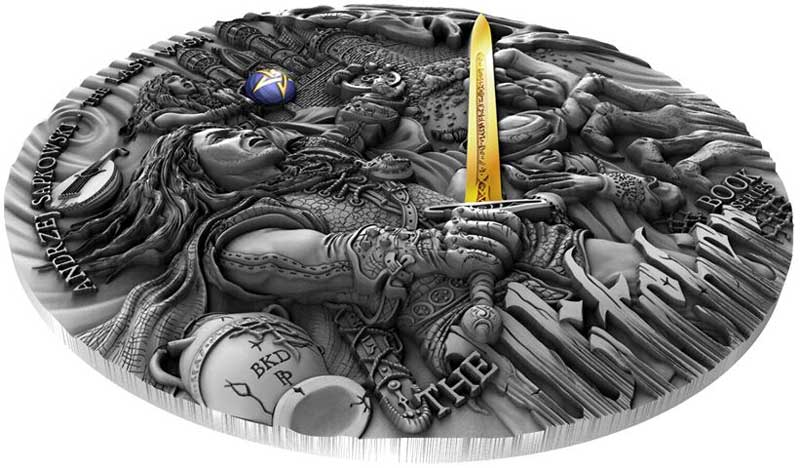 The first coin has a face value of $5, and is limited to 2,000 pieces. Until January 31st, a promotional price of approximately $360 USD (1399 PLN). From February 1st, the purchase of a coin will at a regular price of around $410 USD (1600 PLN). Shipping begins Dec 20th, which is also when the Netflix show will launch.
This 1 kg coin on the reverse shows the key scene from the book "Last Wish" when Duny wanted to marry Pavetta, the daughter of Queen Cintra. Her mother, Calanthe, did not want to agree to this.

The reverse is decorated with…an agate imitating the window of the castle, and shows the moment of Geralt's arrival at Cintra Castle.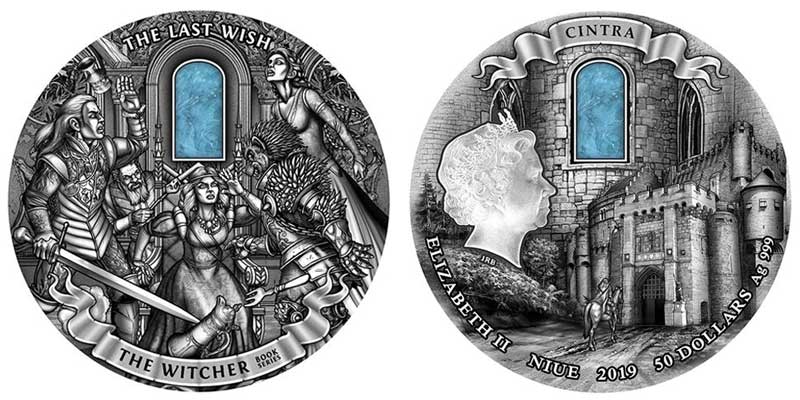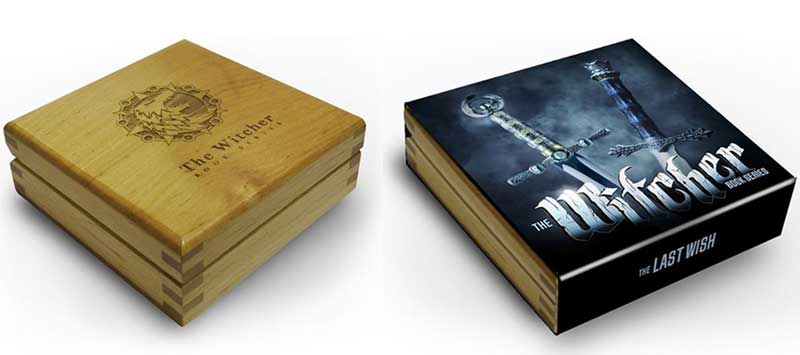 The second coin, with a face value of $50, is certainly worth its weight in silver. However, this hefty piece will set you back some pretty coin as well. Until January 31st 2020, there is a promotional price of approximately $3,700 USD (14 418,97 PLN) On February 1st 2020, the purchase of a coin will be possible at a regular price of over $4,000 USD (16000 PLN)! If you wish to get one, they will be limited to only 200 pieces, and begins shipping Feb 20th 2020.
While collectable coins are certainly not for everybody, they are beautifully detailed. We can't wait to see future designs! What do you think? Let us know in the comments below or in our forum!