4/4/2022 10:58 am

Netflix today revealed that production has started for the third season of The Witcher! Alongside the news, we've got a look at our three heroes sitting around as they wait to film a scene, plus a synopsis for what this season will be about:
As monarchs, mages, and beasts of the Continent compete to capture her, Geralt takes Ciri of Cintra into hiding, determined to protect his newly-reunited family against those who threaten to destroy it. Entrusted with Ciri's magical training, Yennefer leads them to the protected fortress of Aretuza, where she hopes to discover more about the girl's untapped powers; instead, they discover they've landed in a battlefield of political corruption, dark magic, and treachery. They must fight back, put everything on the line — or risk losing each other forever.
It's clear that we'll be picking off where season 2 left off, where Geralt's highest priority remains protecting Ciri from those who want to harm her or use her for their own gains. Yennefer will also be training Ciri to have a firmer grasp on her magic. Meanwhile on Aretuza, the tensions there seem to be reaching a boiling point.
Check out the image here: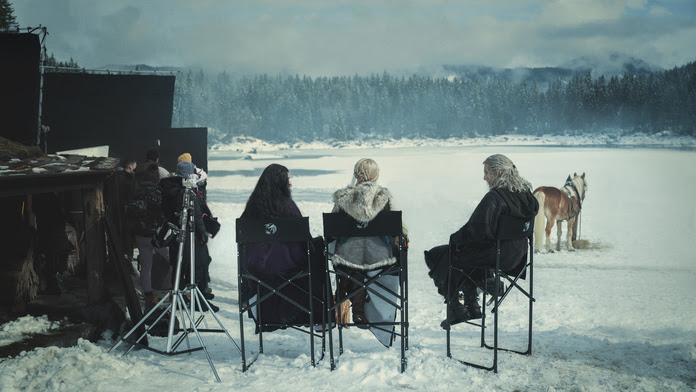 What are your thoughts? Let us know in the comments below or in our forum. Be sure to follow us on Twitter for news and updates!
1/28/2022 12:50 pm

We are still a ways to go before we get Blood Origins, even more until Season 3, but it seems that Netflix will be having Henry Cavill and Kim Bodnia (Geralt and Vesemir, respectively) sitting down for a conversation on February 1. It seems that it'll be filled with interesting and poignant conversation, humor and good drinks! You can check out a preview that Netflix released here:
Like father, like son. ❤️ See what happened when two legendary witchers sat down for a chat. Watch the full interview right here on Feb 1st. pic.twitter.com/20TnDgMM25

— The Witcher (@witchernetflix) January 28, 2022
What are your thoughts? Let us know in the comments below or in our forum. Be sure to follow us on Twitter for news and updates!
12/27/2021 12:18 pm

By now, you've likely seen all of The Witcher season 2! Most of the fans we've talked with found that the straight forward timeline and father/daughter relationship of Geralt and Ciri this season far outshines last season! People are really loving the second season of this landmark show and it is showing. That said, if you aren't a diehard fan and have played the games or read the books, you might be a little confused with the relationships of the Northern kingdoms. Where are they? Who do they interact with? Where are the weak spots? How does Nilfgaard make it's way into the North? Well much like last year's timeline, this year The Witcher.tv has you covered with our chart of the Northern Kingdoms! Check it out below:

What are your thoughts? Let us know in the comments below or in our forum. Be sure to follow us on Twitter for news and updates!
12/20/2021 10:30 am

For those who watched The Witcher's second season, you might have noticed a trailer at the end of the credits of the last episode. In it, we got a glimpse of the world as it was when elves were roaming the Continent. We briefly touched upon this during season two and Nightmare of the Wolf through stories of how things used to be. The trailer will showcase the battles and trials that the elves will go through and we're excited to see how this will tie in to the world of The Witcher now. Check out the trailer below:
Every story has a beginning. Witness the untold history of the Continent with The Witcher: Blood Origin, a new prequel series set in an elven world 1200 years before the events of The Witcher. Blood Origin will tell a story lost to time - exploring the creation of the first prototype Witcher, and the events that lead to the pivotal "Conjunction of the Spheres," when the worlds of monsters, men, and elves merged to become one. The Witcher: Blood Origin will release in 2022, only on Netflix.
What are your thoughts? Let us know in the comments below or in our forum. Be sure to follow us on Twitter for news and updates!
12/16/2021 5:47 pm

The Witcher Season Two is out now and we can finally catch up with the characters we know and love. Producing a television show is an immense undertaking that takes hundreds of people and thousands of hours of work. Sometimes what you don't see on screen can be the most interesting. (Slight spoilers ahead) Here are ten behind-the-scene facts about the second season:
Geralt of Rivia has two swords this season: one silver and the other meteorite. In reality, the armoury department had 25 different versions of the sword. For the fight scenes, 15 rubber copies of each sword were made.
All of the elven weapons utilize nature imagery and design — axes with dragon and horse heads, swords and daggers with serpents, bows with little salamanders. For the background elves alone, the armoury department created 12 original weapon designs and made 150 items.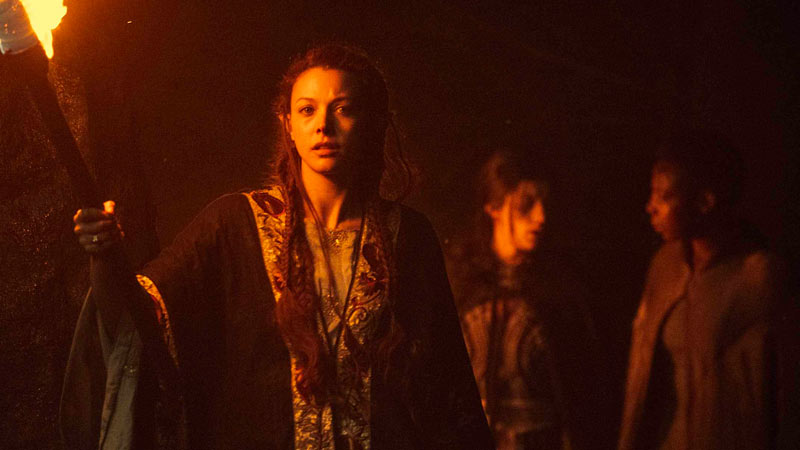 The contact lenses used in THE WITCHER are precisely measured and cut to each individual actor's eye shape and size. Every lens was handpainted in America.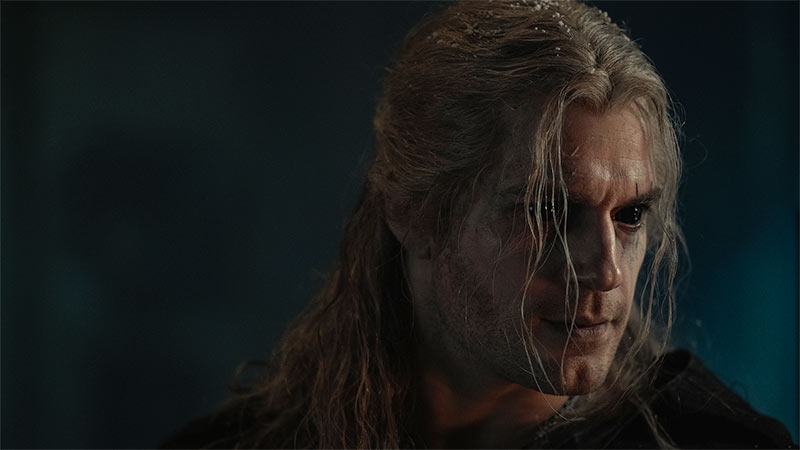 Actor Agnes Born did her own body movement and contortion training for the role of Vereena. When the bruxa's head spins around, this was shot practically and with no help from visual effects. Agnes twisted her head in one direction before a mold of her back was fixed to her chest, giving the illusion she turned her head 360 degrees.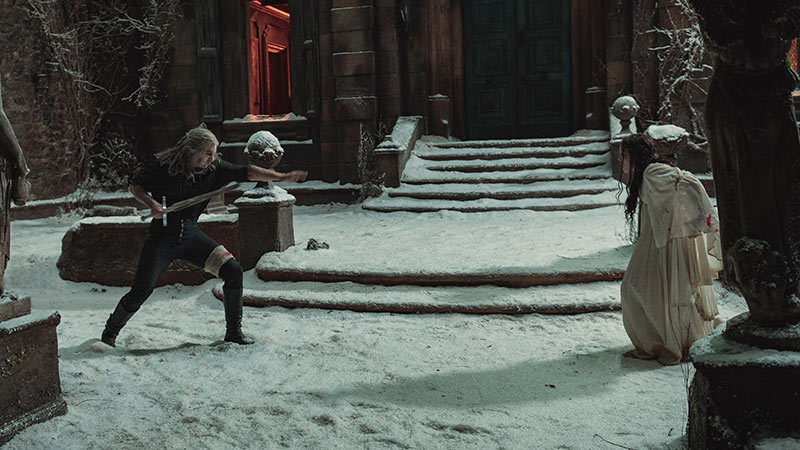 Graham McTavish plays the character Sigismund Dijkstra this season, and also voices the character Deglan, Vesemir's mentor, in the anime movie THE WITCHER: NIGHTMARE OF THE WOLF.
To create the exterior of Kaer Morhen, the VFX team used a process called photogrammetry. They took thousands of pictures of two environments — a mountain called Sgùrr on the Isle of Skye in Scotland, and a second location in Iceland — to create a computer-generation 3D model.
Yarpen's distinctive hammer showing two fingers has a backstory created by the armoury department. In their story, the hand belonged to a Nilfgaardian sentry who had a disagreement with Yarpen, so Yarpen cut his hand off and had it cast in bronze with the two fingers sticking up.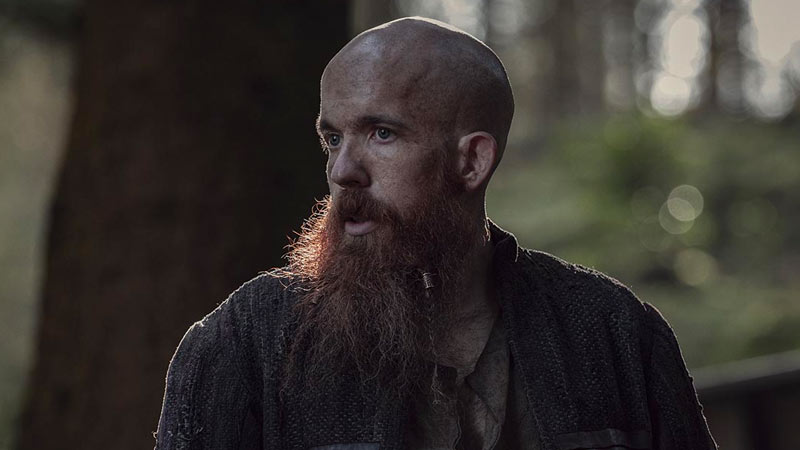 Production used 500 live cockroaches for the scene in Voleth Meir's hut, plus 2,000 fake ones to visually bulk up the numbers. The live roaches had four animal wranglers who had to count each one out in the morning and back in the evening to make sure none had scurried away.
In memory of the thirteen mages who fell at Sodden, Tissaia carves their names into a marble plaque at Aretuza in Episode 203. Most of the names came from the original books. However, there were four mages not accounted for, so the art department added slightly altered versions names for showrunner Lauren Schmidt Hissrich, executive producer Tomek Bagiński, writer Haily Hall, and associate producer Tera Vale Ragan.
In the center of Kaer Morhen's Great Hall stands the Medallion Tree, a memorial where the wolf medallions of fallen Witchers glitter in remembrance. Hidden among the many medallions is one very specific medallion that eagle-eyed fans should keep an eye out for.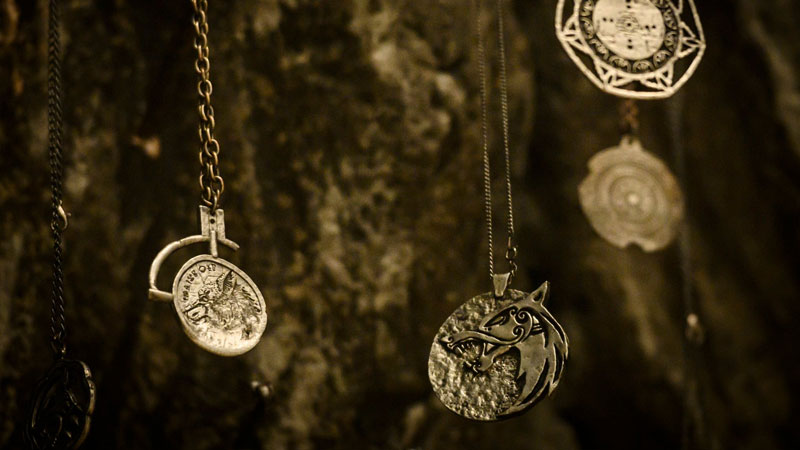 What fact did you find most interesting? Let us know in the comments below or in our forums!