4/26/2022 3:44 pm

On April 24th, BAFTA announced the winners of the British Academy Television and Craft Awards, which focuses on the exemplary talent behind 2021 television shows in categories such as costume design, makeup and hair design, and visual effects.
The Witcher season two nominees did not go home empty handed, winning in two categories that nigh. Barrie Gower and Sara Gower for Make-Up & Hair, and Dadi Einarsson, Gavin Round, Aleksandar Pejic, Oliver Cubbage, Stefano Pepin and Jet Omoshebi won Special, Visual & Graphic Effects of the episode "A Grain of Truth" (pictured below).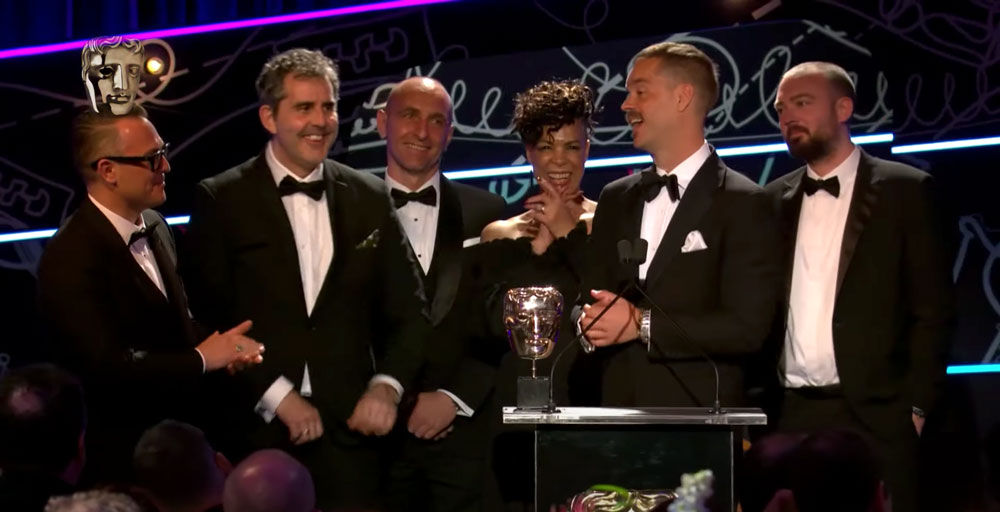 Congratulations to the winners and the many people behind the scenes to make it all possible! Let us know your thoughts in the comments below or in our forums.
4/14/2022 7:58 am

While filming for season three has started, there have been questions on who would be returning. Some have searched social media posts for clues and updates, but Netflix has released an official list and additions to The Continent.
Actors returning this season are: Henry Cavill, Anya Chalotra, Freya Allan, Joey Batey, MyAnna Buring, Tom Canton, Jeremy Crawford, Eamon Farren, Mahesh Jadu, Terence Maynard, Lars Mikkelsen, Mimî M Khayisa, Royce Pierreson, Wilson Mbomio, Anna Shaffer, Therica Wilson-Read, Cassie Clare, Mecia Simson, Graham McTavish, Bart Edwards, Simon Callow, Liz Carr, Ed Birch and Kaine Zajaz.
Additionally, there are four more actors and their specified roles:
Gallatin - Robbie Amell (Upload, Code 8, Resident Evil: Welcome to Raccoon City)

A born fighter, Gallatin leads an army of guerrilla Scoia'tael fighting on behalf of Nilfgaard. Unafraid to speak his truth, Gallatin's loyalty to his people ultimately leads him on a collision course with Francesca over power.
Milva - Meng'er Zhang (Shang-Chi and The Legend of The Ten Rings)

A human adopted by the dryads of Brokilon Forest, Milva is a fierce and talented huntress. Exact archery skills coupled with a stone-cold aptitude for survival make her a formidable adversary in the unforgiving Continent - those that cross her, do so at their peril.
Prince Radovid - Hugh Skinner (Mamma Mia Here We Go Again!, Falling For Figaro, Fleabag)

Royal playboy and younger brother to King Vizimir, Radovid finds himself suddenly a man on the inside of the Redanian Intelligence. With his good looks and often drunken charm, Radovid surprises with how incisive he can be in matters of politics, but it's all games until someone gets hurt.
Mistle - Christelle Elwin (Half Bad, Bloods)

Mistle is a member of The Rats, a gang of misfit teenagers who steal from the rich and give to themselves - and sometimes the poor. She is street hard, suspicious of everyone and out for revenge, until a chance meeting that will change everything.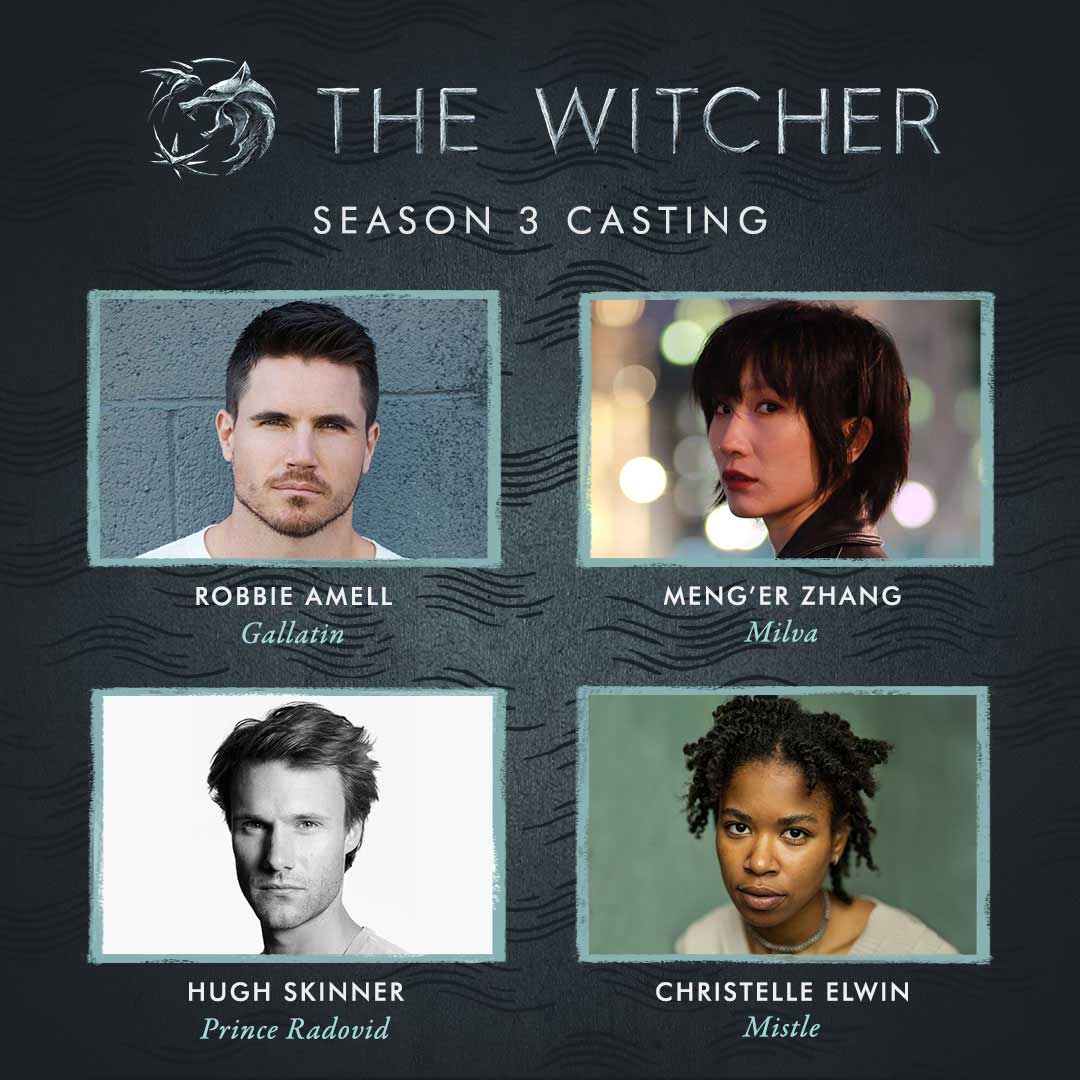 What do you think of the new cast members? Let us know in the comments below or in our forum!
4/4/2022 10:58 am

Netflix today revealed that production has started for the third season of The Witcher! Alongside the news, we've got a look at our three heroes sitting around as they wait to film a scene, plus a synopsis for what this season will be about:
As monarchs, mages, and beasts of the Continent compete to capture her, Geralt takes Ciri of Cintra into hiding, determined to protect his newly-reunited family against those who threaten to destroy it. Entrusted with Ciri's magical training, Yennefer leads them to the protected fortress of Aretuza, where she hopes to discover more about the girl's untapped powers; instead, they discover they've landed in a battlefield of political corruption, dark magic, and treachery. They must fight back, put everything on the line — or risk losing each other forever.
It's clear that we'll be picking off where season 2 left off, where Geralt's highest priority remains protecting Ciri from those who want to harm her or use her for their own gains. Yennefer will also be training Ciri to have a firmer grasp on her magic. Meanwhile on Aretuza, the tensions there seem to be reaching a boiling point.
Check out the image here: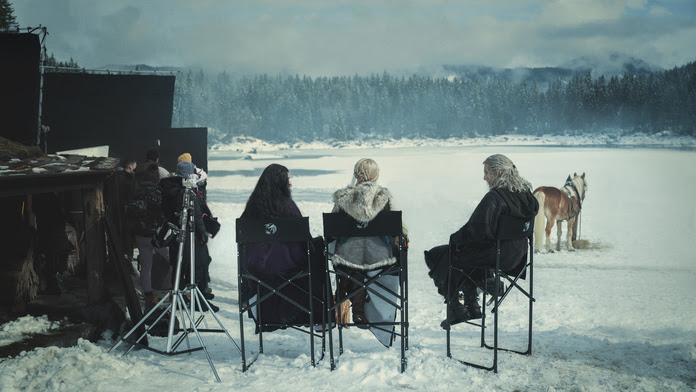 What are your thoughts? Let us know in the comments below or in our forum. Be sure to follow us on Twitter for news and updates!
1/28/2022 12:50 pm

We are still a ways to go before we get Blood Origins, even more until Season 3, but it seems that Netflix will be having Henry Cavill and Kim Bodnia (Geralt and Vesemir, respectively) sitting down for a conversation on February 1. It seems that it'll be filled with interesting and poignant conversation, humor and good drinks! You can check out a preview that Netflix released here:
Like father, like son. ❤️ See what happened when two legendary witchers sat down for a chat. Watch the full interview right here on Feb 1st. pic.twitter.com/20TnDgMM25

— The Witcher (@witchernetflix) January 28, 2022
What are your thoughts? Let us know in the comments below or in our forum. Be sure to follow us on Twitter for news and updates!
12/27/2021 12:18 pm

By now, you've likely seen all of The Witcher season 2! Most of the fans we've talked with found that the straight forward timeline and father/daughter relationship of Geralt and Ciri this season far outshines last season! People are really loving the second season of this landmark show and it is showing. That said, if you aren't a diehard fan and have played the games or read the books, you might be a little confused with the relationships of the Northern kingdoms. Where are they? Who do they interact with? Where are the weak spots? How does Nilfgaard make it's way into the North? Well much like last year's timeline, this year The Witcher.tv has you covered with our chart of the Northern Kingdoms! Check it out below:

What are your thoughts? Let us know in the comments below or in our forum. Be sure to follow us on Twitter for news and updates!