11/24/2018 1:42 pm

Winter is coming…to Netflix. Game of Thrones fans know him as The Night King, but Vladimir Furdik will also be bringing his talents to "The Witcher." As reported by SorozatWiki, Furdik made the announcement at a PlayIT event. The actor will be designing combat choreography and training the actors, such as Henry Cavill, for fight scenes.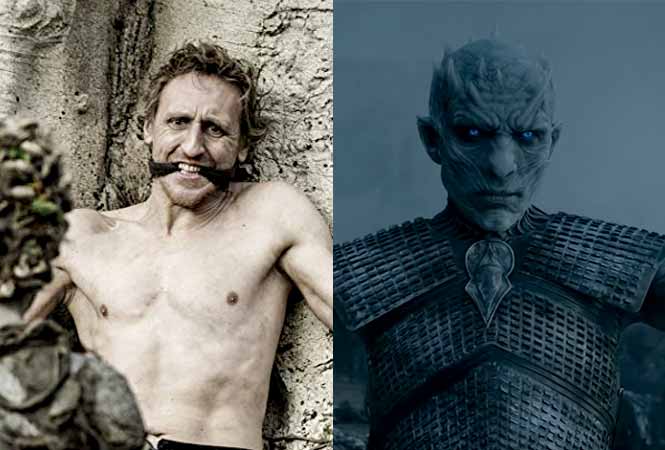 Vladimir Furdik, a Slovak actor and stunt performer, had his Hollywood breakthrough in the 1993 movie "The Three Musketeers." He has also been in "Prometheus," "Sherlock Holmes: Game of Shadows," and "Prince of Persia: Sands of Time."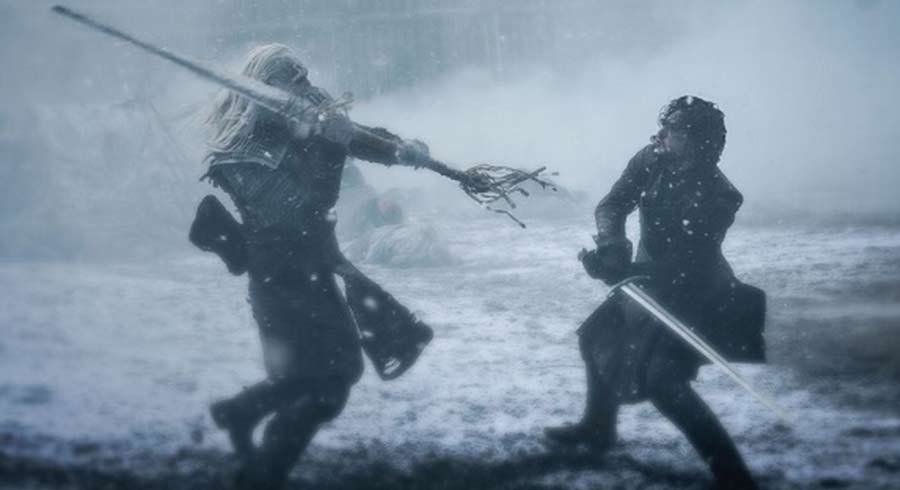 For anyone that has seen "Game of Thrones," this is an exciting announcement. The sword play and choreography are nail biting (such as the scene above with Kit Harington as Jon Snow), and Furdik is a very positive addition to the show. What are your thoughts? Let us know in the comments below or in our forums!
11/22/2018 7:36 pm
New details have come from Eamon Farren's interview with Express.co.uk - giving insight to the production level of Netflix's upcoming show, "The Witcher." Click here to read the previous article.
Farren will be playing the role of Cahir, the "Knight with the Winged Helmet." Cahir relentlessly searches for Ciri, the young girl played by Freya Allan. Memories of the knight have terrorized the young girl's dreams since childhood.
The actor had this to say about the early stages of filming:
"We've started shooting and you walk onto these sets and they're just incredible, the scale of it is massive.
"What I love about The Witcher is the scale of it is massive but the stories and the characters are so intimate and familiar, but also and they exist in that epic world.
"I love that combination because I think it's so fun to play with the micro and macro smashing up against each other."
While no official pictures from the Budapest filming location have been revealed, we imagine Farren is hard at work learning to ride a horse like a proper knight. Perhaps mastering swordplay alongside Henry Cavill?
Lauren Hissrich's children have provided their own "spoilers" of the set in these adorable drawings: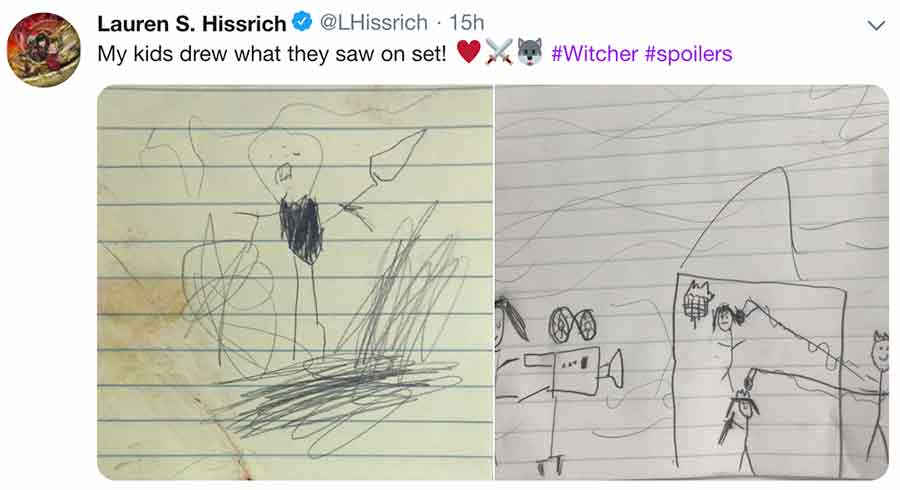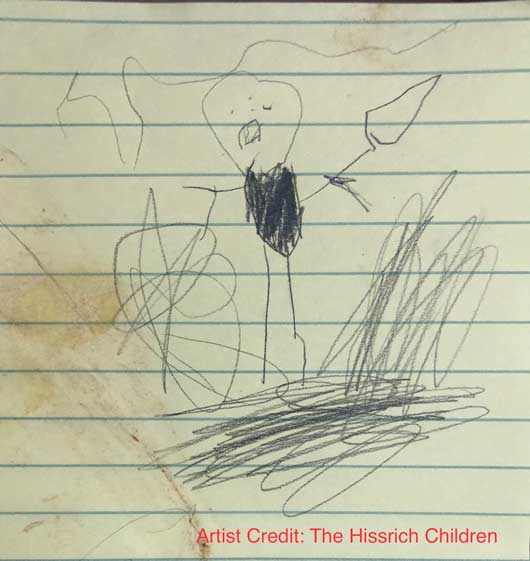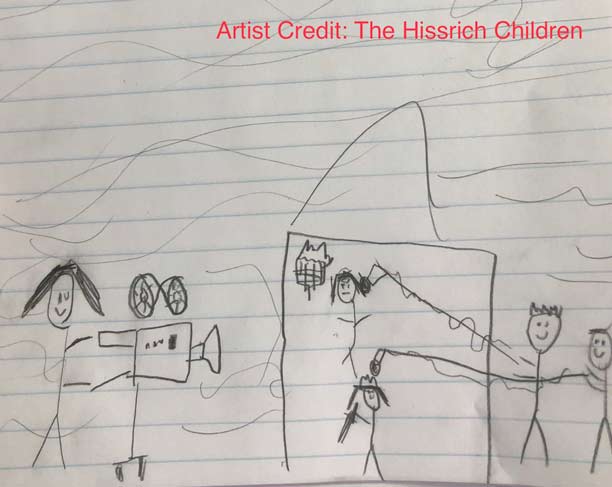 What are your thoughts about production? Netflix's new show will air in 2019, and the rest of the cast and crew are already making the pilgrimage to Budapest. It seems filming is hitting the ground running, and we can't wait for more. Let us know what you think in the comments below or in our forum!
11/20/2018 3:16 pm

While some actors are in the middle of filming, others like Eamon Farren are busy training and researching their roles. Express.co.uk spoke with the actor about his character named Cahir in the upcoming Netflix series.
"It kicked arse," said Eamon of filming The Witcher, which is currently shooting in Budapest.
It feels like a dream to be able as an actor to you know be able to walk on a set like that and fight and ride horses and yell those words.
"It's what the young Eamon always wanted to do."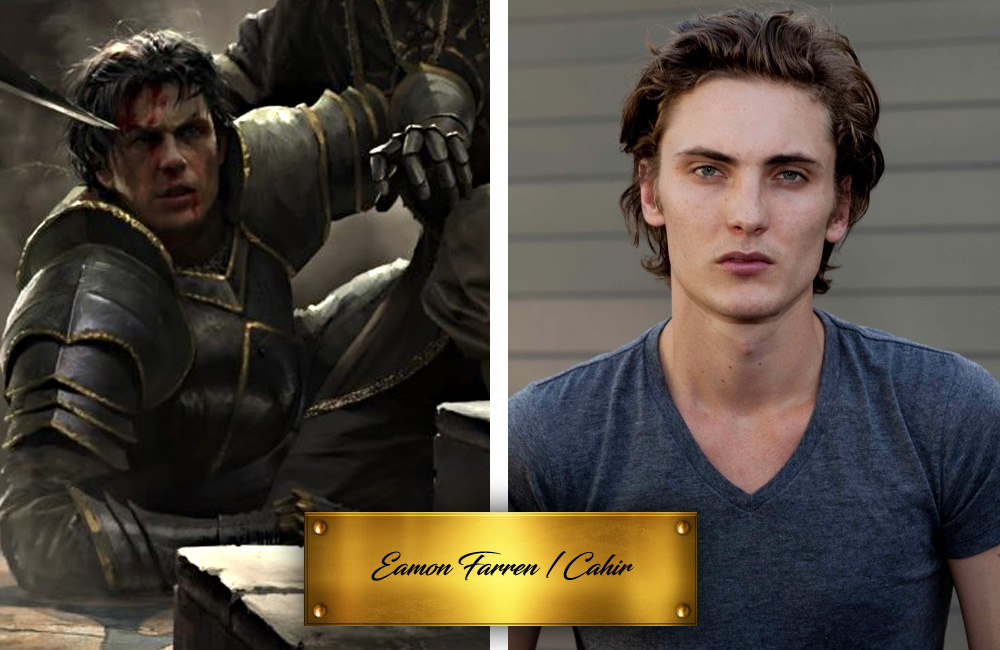 The character of Cahir, also known as the "Knight with the Winged Helmet" searches for Ciri, the young girl played by Freya Allan. Since an event called the "Slaughter of Cintra," the memories of Cahir have terrorized her dreams and has been tracking her ever since.
Look for Cahir and all of "The Witcher" cast on Netflix in 2019. Let us know what you think in the comments below and in the forum!
11/17/2018 10:30 pm

Expectations are high for what some would call the "Next Game of Thrones." Casting announcements have been revealed has filming has already begun. Andrzej Sapkowski, writer of the beloved book series, sat with Clarín to discuss his work and weighs in on the progress of Netflix's upcoming show.
Fans have often given their advice on the recommended book order. As for Sapkowski, he has his own recommendations on how to read his seven books. "The Last Wish" and "The Sword of Destiny" are short stories intertwined with the storyline of the main series and give beginners an insight to the characters and the lore. He states, "That's why I recommend readers to start with "The Last Wish"and continue with "The Sword of Destiny." Just after that you have to go to the "Blood of Elves."
Here is a full recommended reading order:
The Last Wish
Sword of Destiny
Blood of Elves
Time of Contempt
Baptism of Fire
The Swallow's Tower
Lady of the Lake
Season of Storms
The beginning of Geralt's creation began in "Wiedźmin," a story submitted to the Polish magazine, "Fantastyka", for a 1985 literary contest. Inspired rich Slavic mythology, Sapkowski set out to retell the classic fairy tale:
In fairy tales a generic dragon is killed and a generic princess is rescued by either a generic poor cobbler or a generic brave prince with shiny armor. And the two get a princess as a reward. It happens that the job of killing monsters requires a professional: the one who offers his services for money, not for a princess.
Sapkowski has been involved with the newest television series- working with executive producer Lauren Hissrich on the concept and creation of the characters and the world itself. He describes Lauren as "a true professional," and is optimistic about project. As for Henry Cavill as Geralt of Rivia? It seems he is also met with approval from the author, who mentions, "I approve, I believe in his gifts as an actor."
In regards to any future works, there seems to be more adventures in the world of Geralt, but would not go beyond that. It seems fan of the books will have to eagerly wait for more details.
What are your thoughts about casting? Do you agree with Sapkowski's optimism of the show? Let us know in the comments below or in our forum!
10/31/2018 1:24 pm

Somewhat overshadowed by the big reveal of Henry Cavill's first look as Geralt, more casting news has been discovered. While the internet was a buzz with the footage of Cavill in a silver wig, the Polish Twitter account for Netflix shared the casting news. With it, we learn the roles for some pretty important chracters including Triss Merigold, Stregobor and Cahir. For a complete list of who is playing who in this second round of casting, check out the images below:
Anna Shaffer/Triss Merigold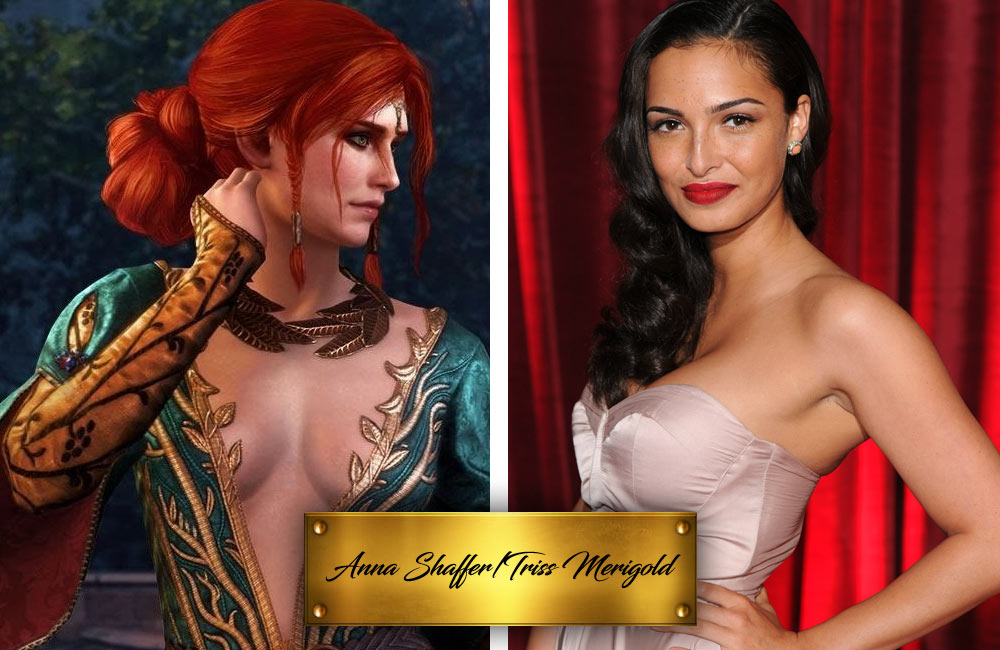 Eamon Farren/Cahir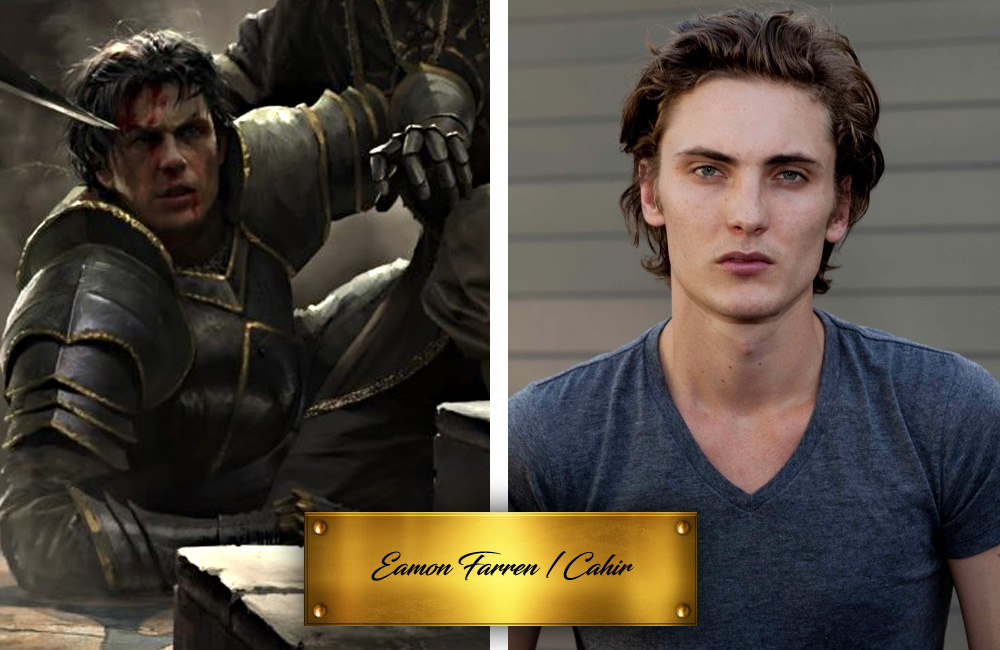 Joey Batey/Jaskier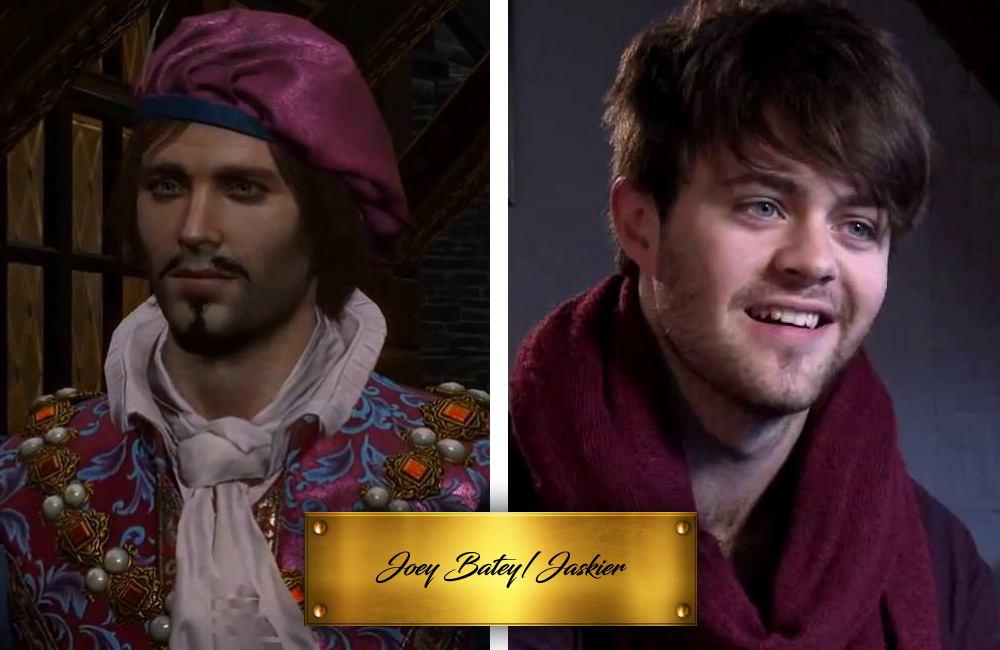 Lars Mikkelsen/Stregobor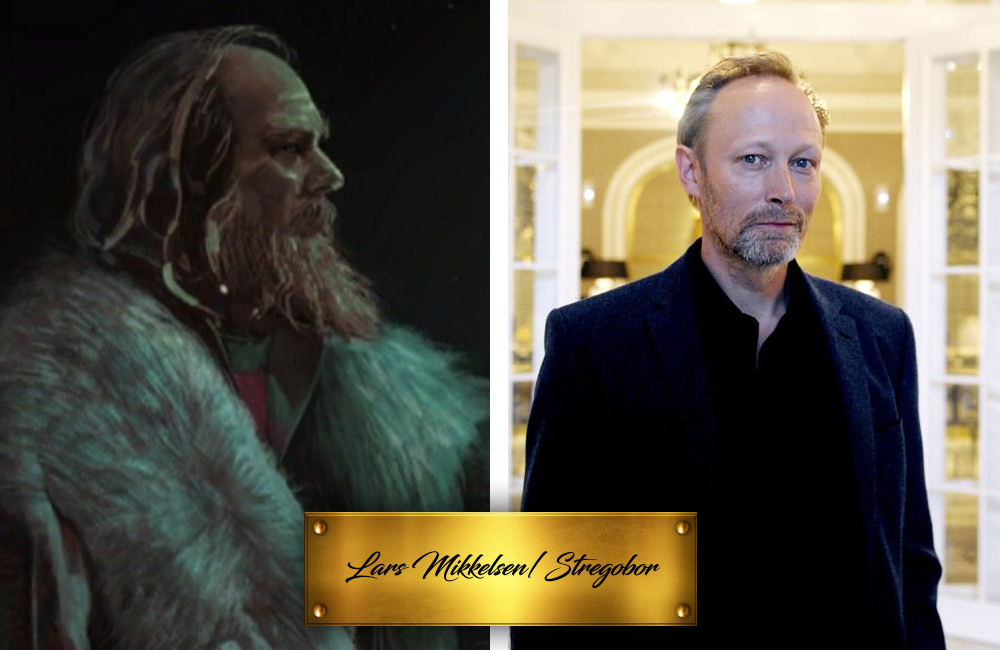 Royce Pierreson/Istredd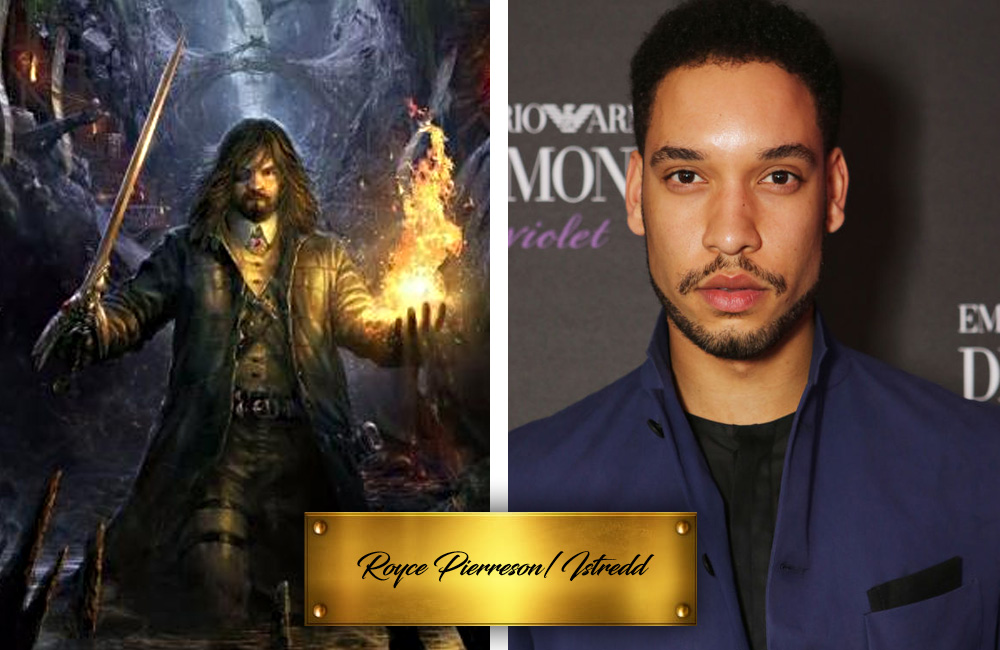 Sir Lazlo/Maciej Musiał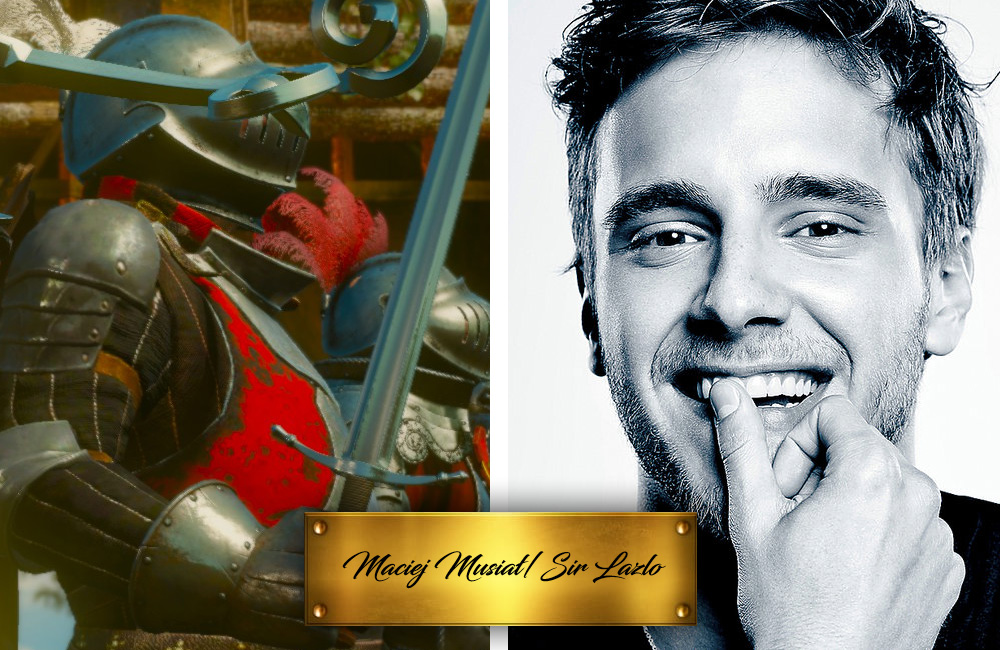 Dara/Wilson Radjou-Pujalte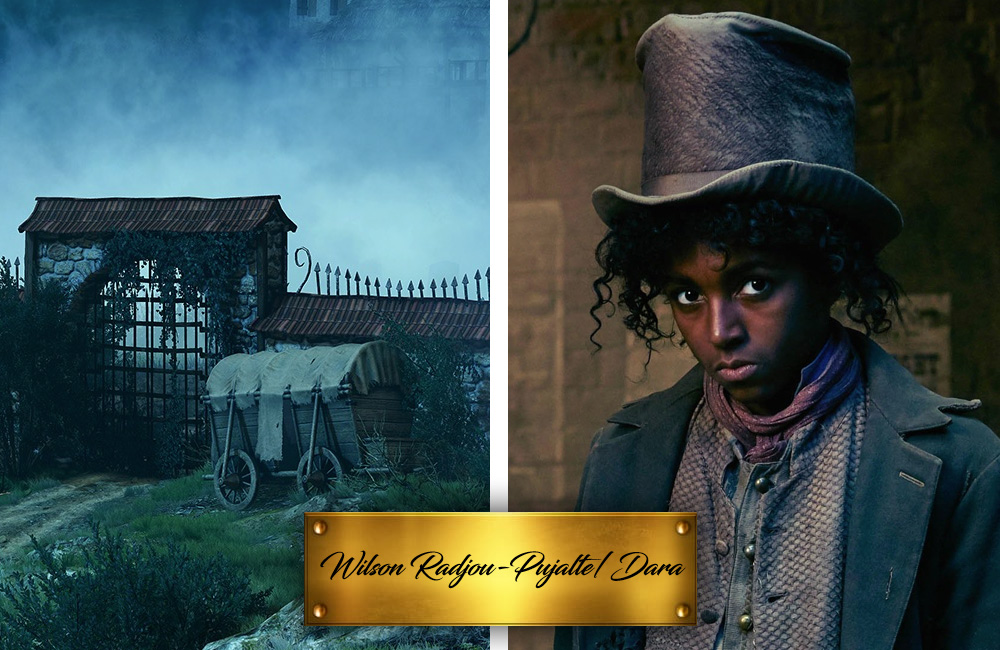 Rebecca Benson - Marilka
Shane Attwooll - Nohorn
Luke Neal - Vyr
Matthew Neal - Nimir
Tobi Bamtefa - Danek
Sonny Serkis - Martin
Roderick Hill - Fletcher
Inge Beckmann - Aridea
Charlotte O'Leary - Tiffania
Natasha Culzac - Toruviel
Amit Shah - Torque
Tom Canton - Filavandrel
Let us know what you think of this new casting news in the comments below and in our forum!