9/26/2020 2:34 pm

As we reported earlier this week, due to rescheduling conflicts actor Thue Rasmussen will be unable to play the role of Eskel. He posted a heartfelt message to his fans and thanked the cast and crew for the memories during production (before COVID forced filming to a halt).
A replacement for Rasmussen has been found according the Deadline. Actor Basil Eidenbenz (Victoria) has been cast as the witcher Eskel and reshoots are taking place now.
Speaking of reshoots, actor Henry Cavill confirmed via Collider that he will not be shooting anything new for the Justice League (The Snyder Cut). Cavill states, "Not shooting anything additional. No. It's all stuff that has been already done. Obviously I don't know how things are going to evolve and change and adapt depending on now a different length of movie and whatever may happen in post-production."
This is good news for Witcher fans, who worried that possible reshoots as Superman could conflict with his current commitments to season two.
We are excited to welcome Eidenbenz to the witcher family! What are your thoughts? Let us know in the comments below or in our forum.
9/23/2020 1:36 pm
Production on season two has been going rather smoothly post COVID safety measures, all things considered. While the entertainment world is slowly reopening, The Witcher season two director Stephen Surjik completed his two episodes.
Unfortunately, due to the massive rescheduling and delays there are possible scheduling conflicts. Actor Thue Rasmussen, who was set to play the witcher Eskel, will not be able to portray the character this season:
😥🙏🐺⚔️#witchernetflix #eskel #covid_19 pic.twitter.com/bcLTg2OgzM

— Thue Rasmussen (@ThueRasmussen) September 23, 2020
While we are sad that we won't be able to see Rasmussen in all his witcher glory, we wish him all the best in his upcoming projects!
What are your thoughts? Let us know in the comments below or in our forum!
9/2/2020 12:38 pm

The Witcher content cup runneth over! In addition to the Making the Witcher documentary, today marks the release of a mini-series documentary called Inside the Episodes. There are eight episodes, one for each episode of the series.
With series creator Lauren S. Hissrich as your guide, take an in-depth journey into the stories and themes powering the first season of 'The Witcher.'
Check out the preview below:
Want to dive deeper into The Continent? I'd love to be your personal guide. ❤️⚔️🐺 The Witcher: A Look Inside The Episodes is streaming now on Netflix. pic.twitter.com/0q5j4bx5la

— Lauren S. Hissrich (@LHissrich) September 2, 2020
Let us know your thoughts in the comments below or in our forum!
8/26/2020 11:20 am

Witcher fans rejoice! We have unexpected new content to help you through this Coronavirus time! Netflix has announced and released a documentary on the making of The Witcher! In a brief clip on Twitter, we hear from the series creator Lauren Hissrich on how she came to the decision to tell the story of all three characters concurrently and out of sequential order. Of course Henry Cavill weighs in on how he wanted the role to begin with and actively sought to get it rather than be approached for it. Just about everyone weighs in via this clip and we know fans will love watching the documentary on seeing how the most popular show in the world was created! Check it out on Netflix right now!
Let us know your thoughts in the comments below or in our forum!
8/12/2020 12:44 pm

Today we have an exciting new update—The Witcher season two has resumed filming! The estimated production start date was originally August 17th, but even with new COVID precaution implementation, they were able to start a few days early.
Director Stephen Surjik, who is responsible for episodes one and two this season, gave fans the update they have been waiting for:
It's T minus 3 min to ignition and lift off for our second run at Witcher S2. Everyone is being cautious but spirits are high. You're looking out new covid communication system, reducing close contact among crew. Thank you Matt, Kelly Lauren and Netflix.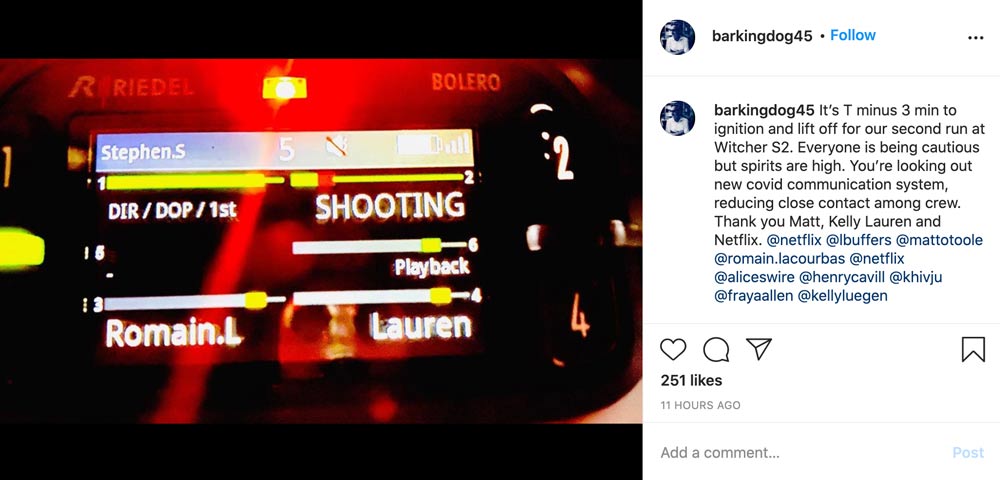 It has been approximately five months since production was halted due to the pandemic. While Netflix shut down filming globally, the company also created a hardship fund to the tune of $150 million to support crew members affected by the shutdown.
We are excited to hear that the hundreds of crew members are back at work and cautiously continuing the creation of season two. Let us know your thoughts in the comments below or in our forum!