1/16/2019 10:52 am

In an interview with Radosław Czyż for Gazeta Wyborcza, creative director Tomasz Bagiński discusses filming a large production like "The Witcher" in Poland, and the challenges of adapting the story for global audiences.
Bagiński tells how convincing Andrzej Sapkowski, writer of the beloved book series, was a long process. However, the beginning of discussions started by simply mailing a letter to the author.
In relation to filming a large production in Poland, Baginski says:
"The film industry in Poland is quite provincial. And although we have a lot of talented people who put a huge amount of work into Polish cinema, it still has an amateurishness."
He is optimistic about the growth of the Polish filming industry- as such large productions offer more opportunities that were not available in the past.
When asked about casting choices, he showed support for Henry Cavill and the rest of the cast. While aware of criticism online, especially for larger roles, he remains unwavering in the choices of the team:
"…all casting choices are well thought out" and persuaded to wait with grades for the end result."
What are your thoughts? Do you agree with Bagiński's assessment of the Polish film industry and casting choices? Let us know in the comments below or in our forum!
Note: This article has been edited to credit the original source of the interview.
12/24/2018 4:58 pm

Rumor has it that Netflix is pleased with how "The Witcher" is progressing, and is willing to greenlight more seasons in the future. This insider info comes from a tweet by KC Walsh, Editor in Chief of Geeks WorldWide.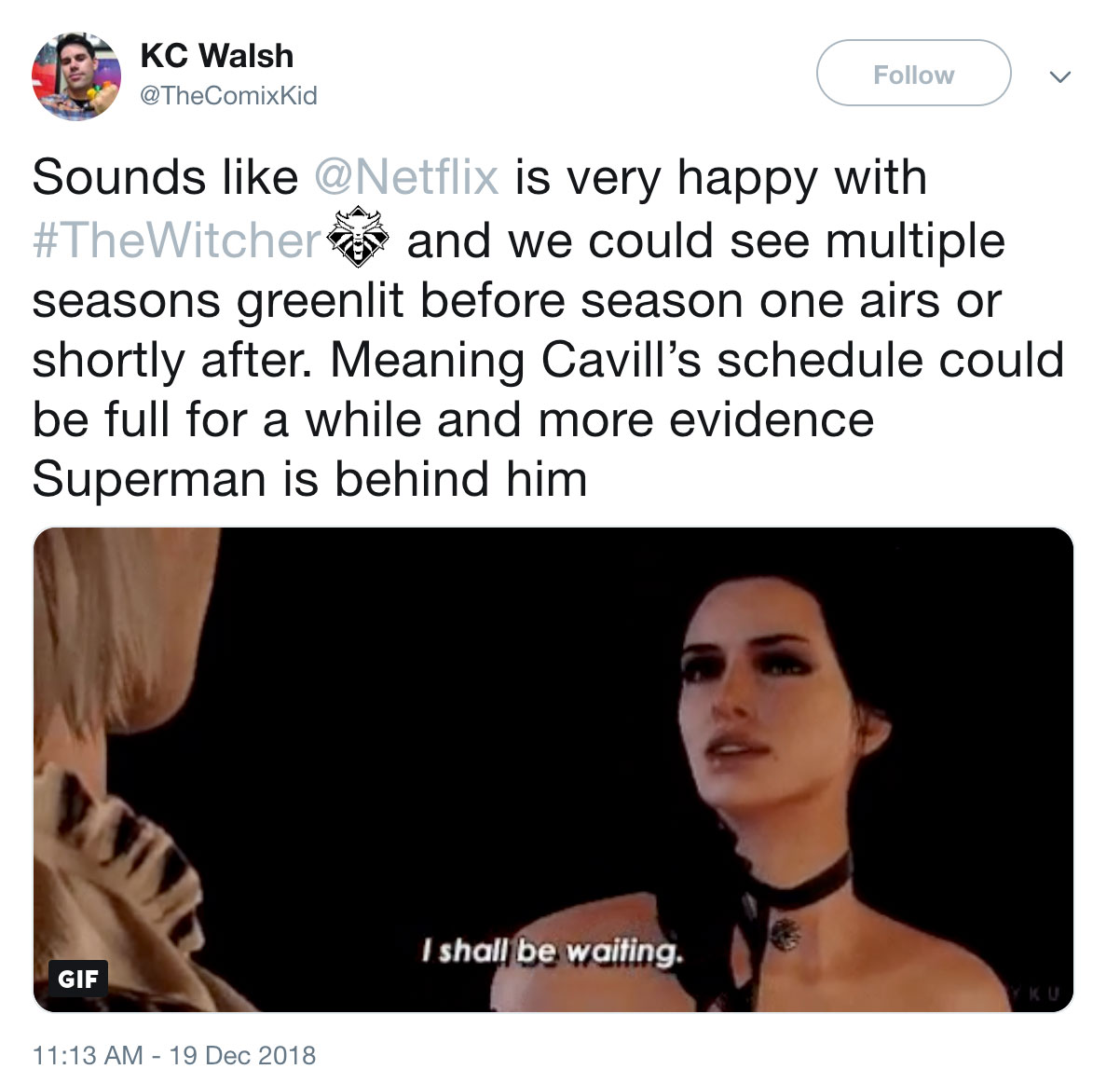 Filming has currently paused for the holiday season, but will resume in January.
While Netflix could be willing to greenlight more seasons, even before filming completion, fans should take this information with a grain of salt. Many things can happen when it comes to logistics such as finances, contract renewals, and availability. Henry Cavill, in particular, has DC fans wondering if he will reprise his role as Superman in the future.
What are your thoughts? Do you think Henry Cavill could be the White Wolf and Superman at the same time? Will we be seeing a second season in the future? Let us know your thoughts in the comments below or in our forum!
12/14/2018 10:27 am

Over the last 24 to 36 hours, fans across the world have been trying to figure out if the special effect demos that we exclusively shared were indeed a part of the Netflix's show. The quality looks top notch, and the fight scene in the village is clearly a live action one- not a fully digital environment. All that considered, TheWitcher.tv can now exclusively claim that these videos, while extremely well done, are NOT a part of the Netflix show. We've reached out to Netflix, who was able to provide this information for us. The last mystery to be solved rests with Topedo Pictures. Why did they make these and what are they for? Demo reel to land a contract, perhaps? For now, we simply know this is not for Netflix's "The Witcher."
Share your thoughts as to what Torpedo Studios is up to in the comments below and in the forum!
12/12/2018 9:40 pm

"The Witcher" is currently being filmed in Budapest, and because of that, there are certain privacy benefits being so far away from the United States paparazzi. Fans are eagerly awaiting the first images of official show approved previews. Today, we have possibly the most interesting and probably real first looks at Netflix's "The Witcher." Torpedo Pictures, a Canadian based virtual effects studio, are rumored to have the first special effects reel from the Netflix show. If true, then these short videos could be the first looks at "The Witcher" on Netflix! Check them out below!
Let us know what you think of the videos in the comments below and in our forum!
12/9/2018 1:28 pm

Beau DeMayo, a writer for "The Witcher" TV series, reached out to fans on Twitter for an impromptu Q&A Session. In additional to dozens of questions, we were thankful to have one of ours answered.
"Witcher.tv: Is is hard to personally accept Geralt's neutral ideals when writing the plot? His stance on complete neutrality seems to confuse and frustrate other characters in the books.
DeMayo: No. I empathize a lot with Geralt. Neutrality to me is his way of never getting hurt, even though inside it's clear what he witnesses pains him. And the frustration it causes is great drama for us."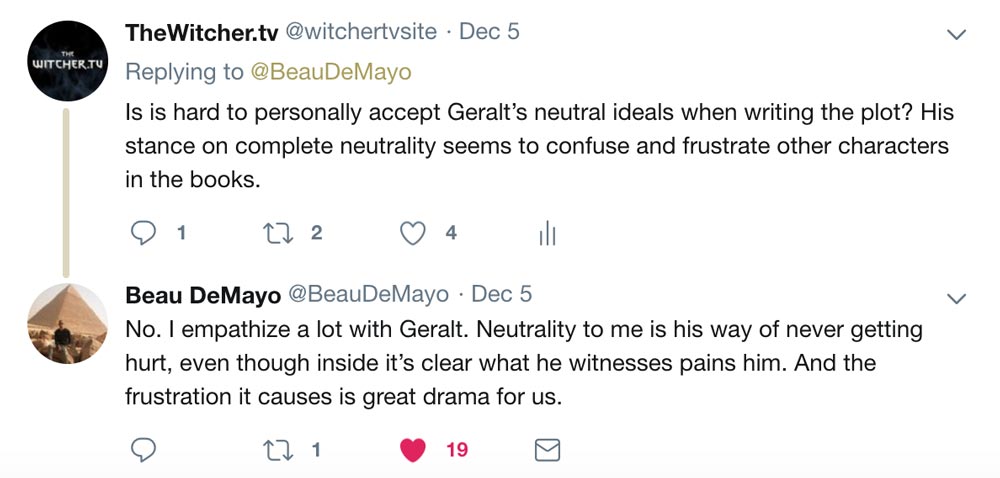 To read the full thread of questions and answers, go to his twitter threads here and here!
Lauren Hissrich not only directs, but she might be seen in front of the camera! She uploaded a picture of herself in a glamorous, long green cape with hair that is the envy of any noble. Hissrich has remained mum, but fans will be excited for the Easter Egg when the series releases in 2019!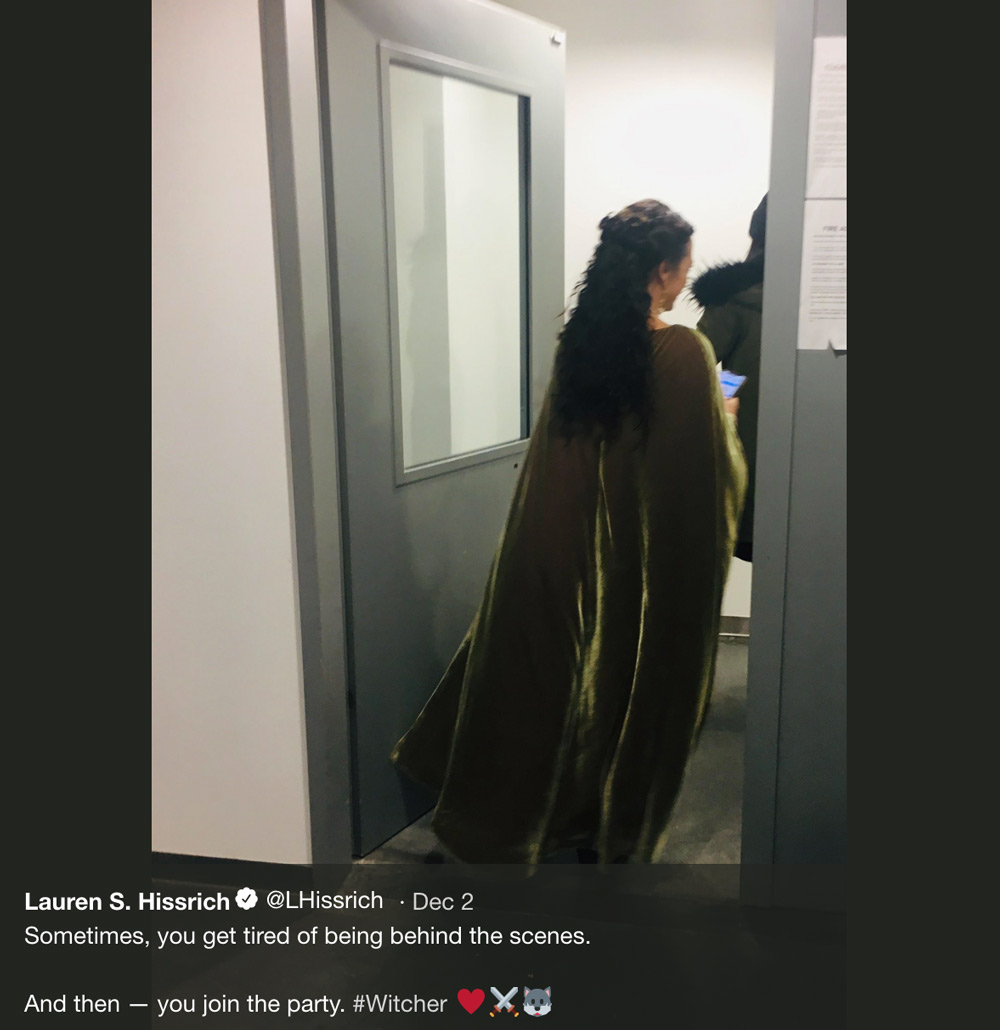 The first unofficial look into the set may have leaked! An eagle eyed reddit user, Wortasyy, found photos uploaded to Twitter by a user named @Olimarville. The identity of the person on remains protected, but is stated to be an extra on set.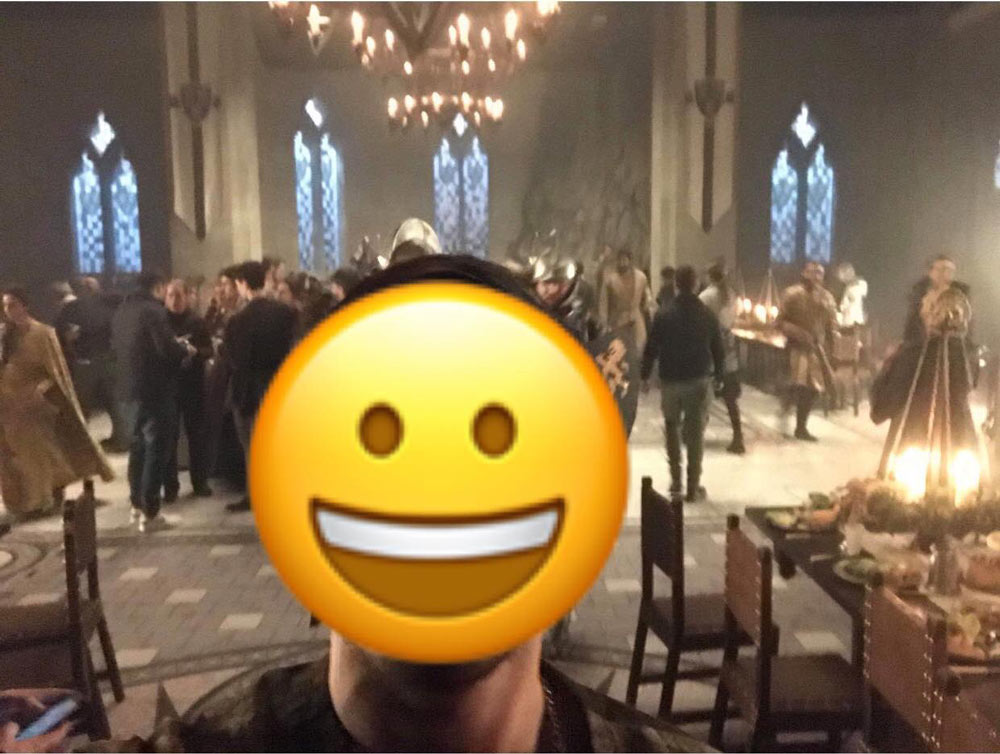 Note: We reached out to additional sources for confirmation of the photos' legitimacy, but did not hear back by the time we published this.
Based on the heraldry, the setting seems to be Cintra, ruled by Queen Calanthe- the "Lioness of Cintra." Jodhi May, who plays Calanthe, could not be positively identified in the pictures.
What do you think about the images? See anything that pops out to you? Do you think Lauren might make a cameo in Cintra? Let us know if the comments below or in our forum!