9/23/2018 8:23 pm

The start date for filming is creeping up, and so far only Henry Cavill has been officially announced for a role. With filming set to begin in October, this leaves little time for the cast and crew to prepare. Fans have been waiting on the edge of their seat for more updates, anticipating announcements to occur in the course of the next few weeks.
Here is what you might have missed in the meantime:
Lauren Hissrich keeps followers informed through her Instagram.
A week ago, casting assistant for "The Witcher," Faye Timby, posted an update on the process. In the picture is Hissrich sitting next to Executive Producer Alik Sakharov, who seem to be cross checking notes on their laptops during London casting.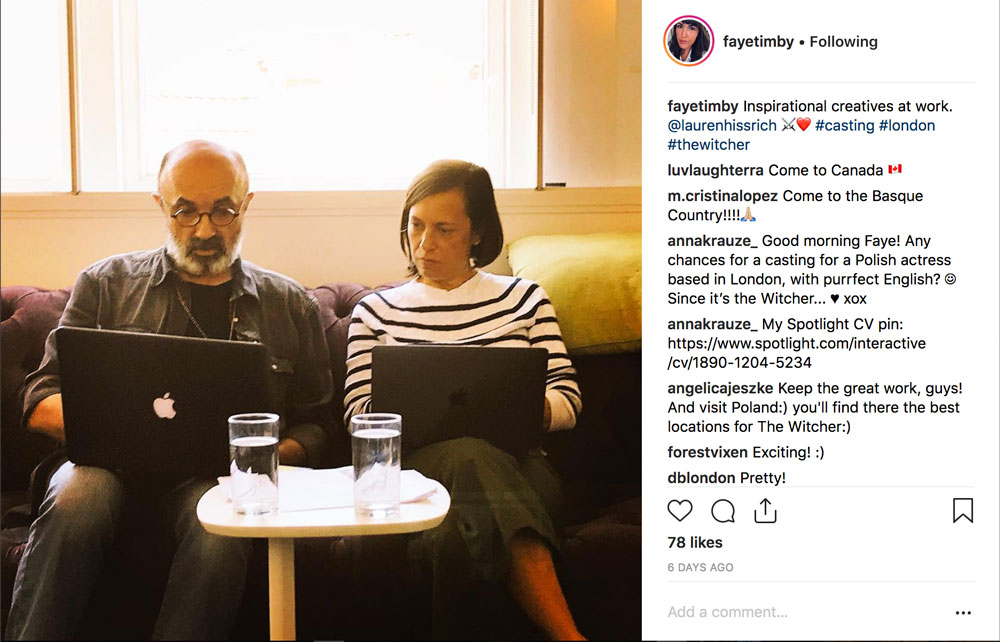 Not long after, Hissrich posted a picture of some cold medicine, and fans have guessed that she was in Hungary based on the packaging language. There is no rest for the weary, because she is currently back in London after a busy week.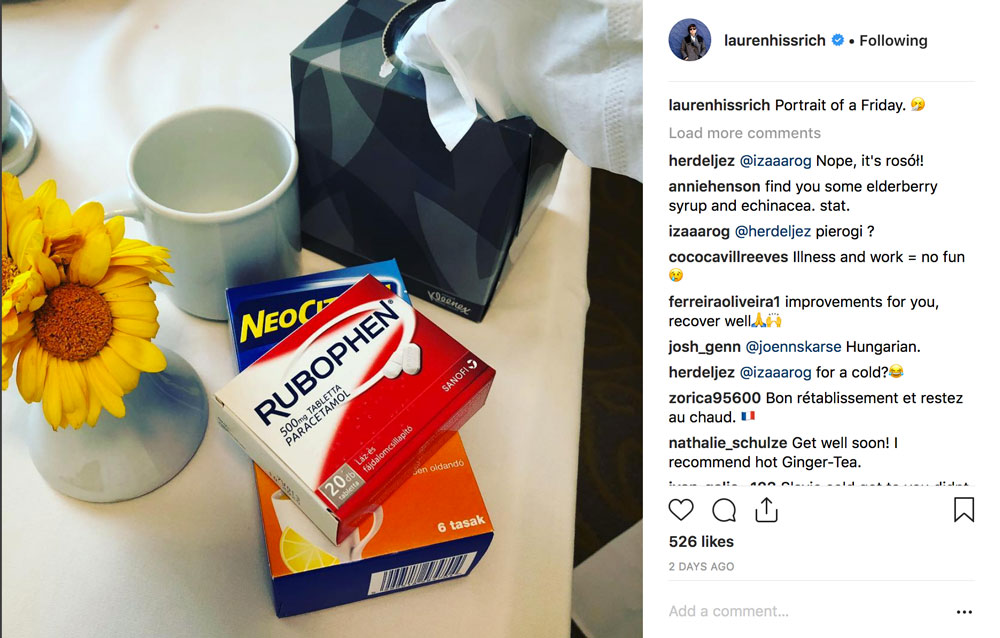 Henry Cavill is in Hungary, preparing for the role.
Before he left, he said goodbye to his own loyal steed, taking a ride on his Ducati. While he may trade in a mechanical Roch for the real thing, we are sure to see his trusty dog named Kal-El by his side during filming.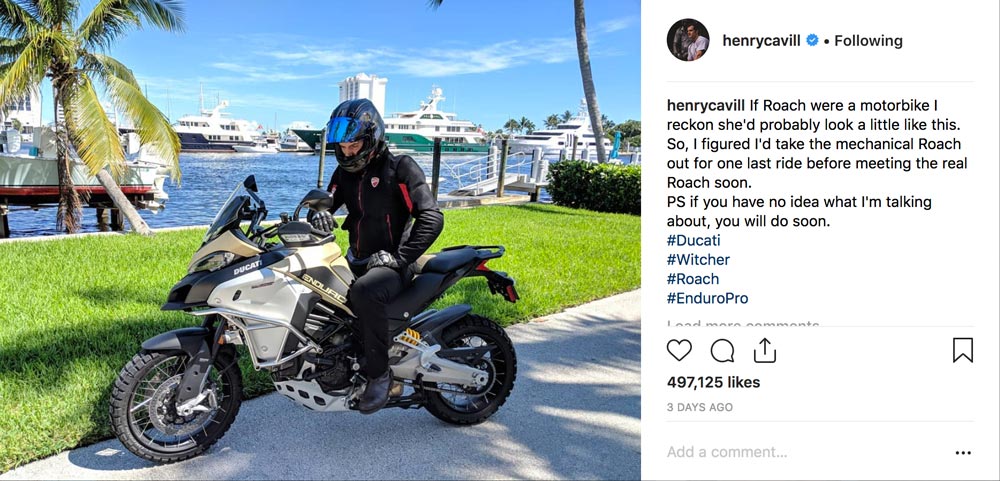 NX on Netflix promo video included "The Witcher" in coming soon lineup.
While the namedrop is lowkey, this is definitely the start of future exciting marketing materials, and reminds fans that 2019 is going to be worth the wait! Below is the screencap, but you can view the whole video here.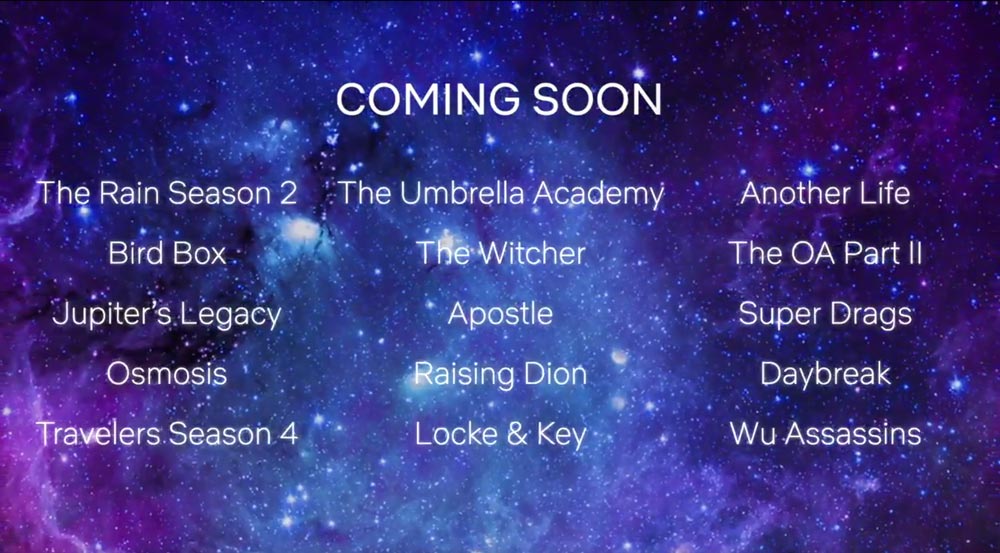 Things are happening fast, and more announcement are on the horizon. What news are you excited to hear? Let us know in the comments below or in our forum!
9/11/2018 8:45 pm

Last week the internet was all a flutter as we learned that the pivotal part of Ciri, adopted daughter of Geralt and Yennifer, was going to be played by a B.A.M.E. As a reminder, B.A.M.E. stands for Black Asian Minority Ethnic. Passionate fans raised both support and uproar by the news, to the point that showrunner Lauren Hissrich has taken a break from Twitter to focus on the show.
Today we can share that test dialogue for the part has been found! The test script, which holds the first meeting of Geralt and Ciri, describes the young character's ashen hair and stunning green eyes. Book and video game players will delight in the test dialogue as it clearly shows the young girl's plucky, strong willed personality. For more on the test dialogue, see our spoilers page.
In addition to the new information on Ciri, TheWitcher.tv has learned that actors of Polish decent are being considered for the part. According to the B.A.M.E. definition, people of Polish or Slavic decent are considered as B.A.M.E. It is used as an umbrella term to describe those that are not "White, or White British." Additionally, rumors are circulating that a few polish actors are reading for the part soon.
Let us know what you think of this new information and the test dialogue in the comments below and in our forum!
9/7/2018 2:58 pm

TheWitcher.tv has obtained the casting call description for Ciri, which is looking to add diversity to the cast. The casting team is searching for a B.A.M.E actor in her late teens who can play a preteen. The acronym stands for: Black, Asian and Minority Ethnic. Looking for an actor that can "age" based on storyline, might entail that episode timelines span between a few years at least. Below is the official description, but without source and contact information (out of respect to those involved).
THE WITCHER for Netflix
Overall shoot dates: 18th October 2018 - end May 2019
Location: Budapest
CIRI
LEAD ROLE. OPTIONS REQUIRED
Cirilla. The Lion Cub of Cintra
Looking for a 16 or 15 year old BAME girl who can play down to 13/14. Must not be older than 18 years old.
Resilient, Relentless, Brazen, Growing.
CIRI can often be found rough-housing with the Palace hands instead of sitting in finery at the knee of the QUEEN CALANTHE, her grandmother. That is, until Cintra is massacred by the Nilfgaardians and CIRI is orphaned, left to traverse THE CONTINENT, alone. She doesn't know it yet, but she's a direct descendent of LARA DORREN, an Elven Mage – which is why everyone in our series is after her. We follow CIRI as she evades her captors, and in the meantime, discovers her magical talents, her dark side, and the role she is to play in the coming apocalypse. We are looking for an extraordinary young talent to lead this series. She should be brave hearted and MUST have something truly special about her.
The Witcher an 8 x one hour, fantasy drama for Netflix created by Lauren Schmidt Hissrich (The West Wing, The Defenders, Daredevil) and based on the book series of the same name by Andrzej Sapkowski.
GERALT, a genetically enhanced monster hunter, struggles to find his place in a world where people often prove more wicked than beasts.
GERALT's story entwines with CIRI, an orphaned young girl who wants to find a family & YENNEFER, a powerful sorceress whose beauty and talent come at cost.
Bound together by destiny, often against their will, the three must navigate THE CONTINENT together. And Geralt and Yennefer realize that they must protect this girl - who might just destroy the world. Need we say more?
The concern over ethnic diversity is not a new topic, and has been brought up early by fans, both for and against such casting choices. Showrunner Lauren Hissrich has addressed representation in past twitter threads. Here are a few of them:
The word "representation" is so hot-button that the second I use it, a swath of people accuse me of being leftist, or "anti-racist" (someone actually said that) or a feminist. But true representation also includes men, and conservatives, and white people. It includes different sexualities (which Sapkowski himself wove in) and cultures and ethnicities. It includes all people and POVs. BECAUSE — without them, there's no drama. If I just preach my "agenda," there's no debate. No story.
But cultural representation and skin color are two different things. And I don't see why we can't show accurate, organic diversity in both, within a fantasy world.
What are your thoughts on casting diversity? Does it in any way diminish the world Andrzej Sapkowski has painstakingly created? Let us know in the comments below or in our forums.
9/6/2018 12:59 pm

Audition scripts have been revealed for the role of Isaac, which is possibly a codename for Istredd. Based on what was posted on StagePool.eu earlier, this was the description:
"ISAAC" 20-30 years | Published 2018-07-23 | Application deadline 2018-08-02
The script can be read in our spoilers page.
With the news that Henry Cavill will play Geralt of Rivia, this could confirm that a possible romantic rivalry will be part of the storyline. In the books, Yennefer had romantic history with both the sorcerer Istredd, and Geralt. Readers of Andrzej Sapkowski's short story, "A Shard of Ice," know the love triangle was tumultuous to say the least.
An actor has not officially been announced for the role of Yennefer, but has fans debating who would be best to play the leading role alongside Henry Cavill. Who do you think should play Yennefer? Are you excited for a possible love triangle? Let us know in the comments below or in our forum!
9/4/2018 7:45 am

It's a bird, it's a plane- it's not Superman, it is Geralt of Rivia. According to Variety, this will be Henry Cavill's first TV role since being in "The Tudors." He is well known in the comic book world for his role as Kal-El, or Superman. Henry hinted his interest in playing the role during an interview with IGN in August, the actor mentioned his love of the books.
It seems Henry has also slyly updated his address change on his Instagram. Don't bother writing to him there, it seems he doesn't pick up his letters that often.
What do you think about the official announcement? Will Henry Cavill do The White Wolf justice? We think so. Tell us your thoughts in the comments below or in our forum!