8/21/2018 3:38 pm

Hot off the heels of learning that "The Witcher" would be filmed in Hungary, we are now learning that a production manager in the area has been hired, and a production lot has likely been located. According to IMDB, Tamas Gal has been hired as the production manager for the show. Gal has local experience in Hungary, and has worked on other major Hollywood projects such as "Marco Polo" and "The Martian."
Additionally, user gravemaster7 on Reddit has brought up some very interesting theories on production locations. Korda Studios in Hungary has a multitude of great locations and space- not to mention an already constructed backlot of a 13th-14th century village. Could "The Witcher" be moving in? Time will tell.
Let us know your thoughts in the comments below and in our forum!
8/14/2018 10:30 pm

Casting and production planning is currently underway for "The Witcher," and fans are eager to hear the casting announcements. Discussing Film has confirmed that production is set to begin November 5th which means fans might not have to wait much longer for official casting announcements.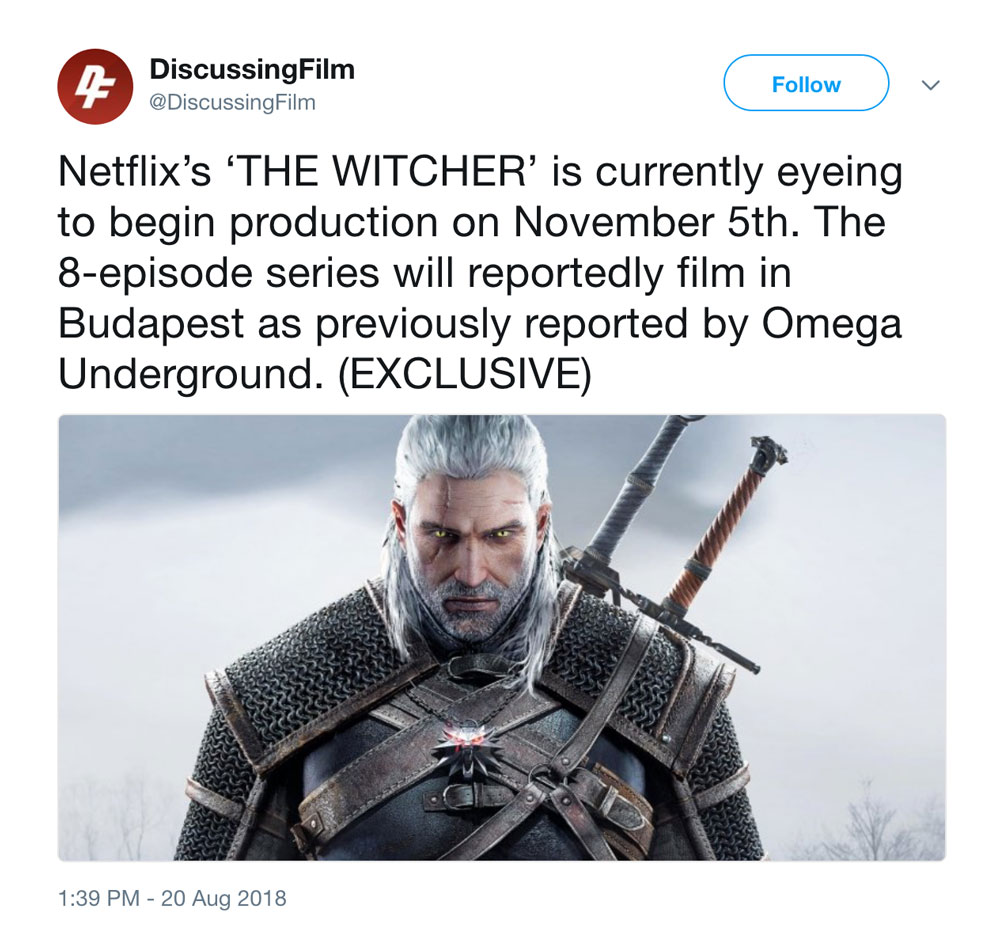 As previously reported by Omega Underground, Netflix was looking into Budapest, Hungary as a filming location for the series. Budapest is a solid choice in terms of cost and location, and has a history of producing large and small-scale projects. Notable films and television shows such as "Red Sparrow," "Atomic Blonde," and "The Alienist" have utilized Hungary's popular filming industry.
The possibilities this location has to offer sound endless! Let us know your thoughts in the comments below and in our forum!
8/14/2018 9:09 pm

An audition tape has been found revealing two test scripts for the role of Geralt. As with past audition tapes, the scripts are completely spoiler free and have been written specifically for casting purposes only. A video can be found here.
The test dialogue between Geralt and Yennefer, in particular, has some fans concerned over the show's future portrayal of their relationship. Showrunner Lauren S. Hissrich had this to say: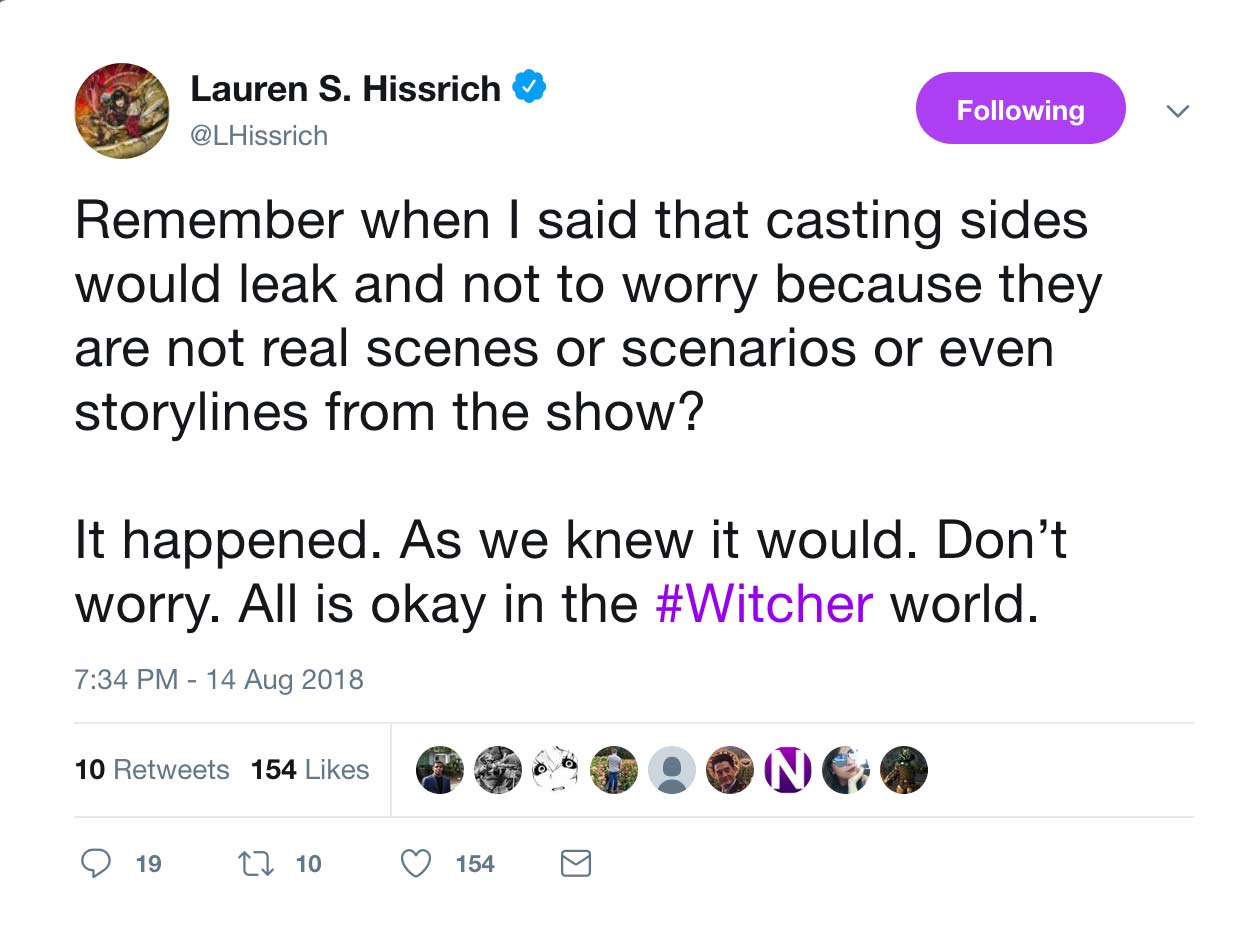 A transcript of the dialogue can be found in our spoilers section, along with the Yennefer audition scripts that were previously revealed.
What are your thoughts on the test script, do you have concerns? Secondly, who do you think should be cast as Geralt and Yennefer? Let us know in the comments below or in our forum!
8/9/2018 8:27 pm

Casting your main character is one of if not the most important part of making a new show. When you have a single lead, and you cast it right, you can weather more events as the show goes on than a poorly cast lead or an ensemble cast. For example, co-leads and or supporting actors might leave to pursue their own lead opportunities but if you have a powerful lead, you can carry on with the show with changing roles. Because of that, this part of the casting process is essential! TheWitcher.tv is tracking which actors are auditioning and have expressed interest in the part of Geralt. Here's what we've gathered so far:
Henry Cavill: In an interview with IGN, Henry mentioned that he would be interested in playing Geralt for Netflix. While this was a comment made in passing, the internet did explode with fan art supporting the idea. Check it out below:
Sebatian Stan: Recently, Executive Producer Lauren S. Hissrich started following the actor on Instagram. This is unique as she follows very few people and Stan has a plethora of family history in Poland.
Zach McGowen: Known for his roles on Black Sails, The 100 and Shamless, has been making a great play for the role as well. He has been asking his friends and followers on social media to support his bid for the role!
We think anyone of these actors could be a great choice for the role! Who do you want to be Geralt in the pivitol Netflix series, The Witcher?
Let us know what you think in the comments below and in the forum!
8/6/2018 11:15 am

It's with great pleasure that TheWitcher.tv can independently and exclusively break the news that Alik Sakharov has officially joined the show as an Executive Producer. He will be joined by current executive producer and head writer Lauren S. Hissrich, and current team members Jaroslaw Sawko, Tomasz Baginski, Jason F. Brown, and Sean Daniel. Alik Sakharov is an Emmy award-winning cinematographer and producer, known for his work in shows such as "Game of Thrones," "Black Sails," and "Rome," and will certainly bring a desired flare to the show!
What do think about Sakharov working on the show? Let us know in the comments below or in our forum!